The 235 Ragdoll Cat Names
This page contains affiliate links. We may earn money or products from the companies mentioned in this post through our independently chosen links, which earn us a commission.
Your ragdoll fur-baby is the best definition of a fine and affectionate fur-baby. These felines have beautiful big blue eyes, and soft silky coats.
Ragdolls are also easy to love as they are friendly and fun playmates. Your ragdoll also loves to be held and won't mind snuggling up with you on the sofa.
Let's look at names that are perfect for these large, loveable, and relaxed felines. Shall we?
Male Ragdoll Cat Names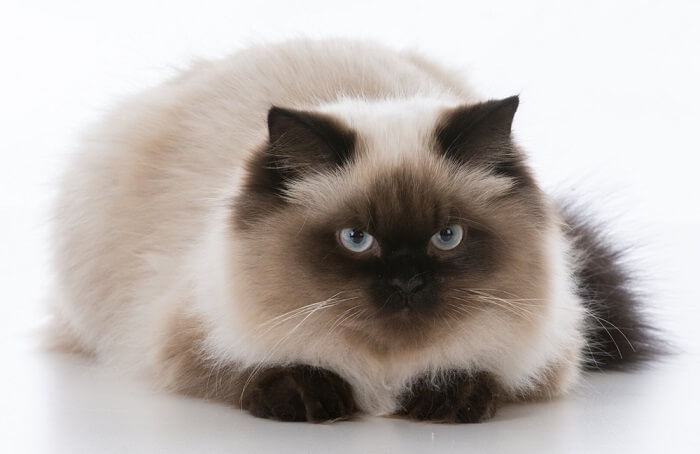 Alistair– Scottish name meaning defender of men, just like your strong ragdoll
Amory –Ideal for a brave and large cat
Anders– Give your strong and brave ragdoll this Scandinavian name
Andreas-Name your cat after Andreas Vesalius, known as the father of modern anatomy
Ashwyn– English name meaning spear friend
Bannan-A German name commander, suits your bold cat
Barrington-Irish name meaning fair-haired
Basil– Suits a puss who loves attention
Berkeley– Irish origin, birch tree meadow
Bing-After American famous singer and comedian Bing Crosby
Binks– A cute name from the Star Wars character Jar Jar Binks
Boogie– Just like his blue eyes
Bumblebee– A sweet and gentle Autobot with blue eyes
Camden– A Gaelic name meaning crooked valley
Cannon– Suits a gracious and loyal ragdoll cat
Castiel-A strong and determined character with blue eyes in the television series Supernatural
Chandler-A character in the series Friends, Chandler Bing
Clyde-Name your stealthy puss after Clyde Barrow
Colton– English name meaning from the dark town
Copper– After the copper coloring found on your cat
Cristopher-Greek name meaning Christ-bearer, suits a gracious cat with a big warm heart
Cruz– The charming Ernesto de la Cruz in the animated film Coco
Cullen– Suits a cute young ragdoll kitty
Danton– A name for a praiseworthy puss
Darian– For your ragdoll who is extremely loyal
Darius-Darius the Great, the third Persian king of the Achaemenid Empire
Dorian– As in The Picture of Dorian Gray, for a cute cat that never gets old
Fionn– For a white and handsome puss
Frederick– Suits your peaceful and quiet cat
Gizmo– A loyal and lovable cartoon in the film Gremlins
Glyn– A Celtic name meaning from the valley, perfect for your quiet fur-baby
Gumby– A helpful and selfless cartoon character
Harper– Suits a friendly puss who loves entertaining guests
Hugh– For your witty ragdoll
Isadoro -Spanish name meaning strong gift
Jackson– Jackson Pollock, a figure in the abstract expressionist movement
Jakob– Inspired by the New-Zealand rock band
Jefferson– For the love of the American rock band, Jefferson Airplane
Jelly– A lovely name for a sweet cat with soft hair
Jerome-The most learned biblical translator, Saint Jerome
Joseph– Name your outdoor ragdoll cat after the English botanist, Sir Joseph Banks
Joshua– Remind you of the Joshua tree, a symbol of hope
Kagen– Means thinker in Irish, perfect for your witty cat
Kieran-Suits a small cat with a dark coat
Langston– A famous poet and novelist, Langston Hughes
Lego-Animated series Lego Ninjago
Leonardo– After the quiet and courageous Ninja Turtle character
Leveret– A cute and playful cat deserves this French name meaning young rabbit
Lucian– For a puss who brightens your life with joy and laughter
Marble– Suits a ragdoll with a soft white coat
Marley-Legendary singer with dreadlocks
Micaiah– Great name for your graceful feline
Miller– Wentworth Miller, actor staring at Prison Break series
Mitchell– A mischievous but lovable cartoon character in Dennis the Menace
Newton– When you think of the law of gravity, you remember the famous physicist, Isaac Newton
Nikolas– A wonderful name for a courageous ragdoll cat
Pablo– Name your naughty ragdoll after the drug lord, Pablo Escobar
Parson– For a strong and enduring puss
Payton-A persistent and generous football player, Walter Payton
Pierre– For a tough and strong feline who is like a rock
Pierrel– Means little rock, suits a steadfast and strong cat
Quentin-Inspired by the Hollywood legend, Quentin Tarantino
Quincy– A fun-loving and loyal character in Little Einstein
Raphael-After the greatest Renaissance painter and architect
Renne– Meaning to rise again in French perfect for your fur-baby who never gives up
Rodney– The standup comedian, Rodney Dangerfield
Roger-A funny, friendly, and talkative cartoon character, Roger Rabbit
Rudy– Dolemite the pimp, character created by comedian and actor, Rudy Ray Moore
Sittichai– Give your ragdoll this name if everything he touches becomes a success
Skipper– English name meaning captain
Sterling-Suits a precious feline
Sullivan– Ideal for your black-eyed kitty
Teddy– English name meaning wealthy guardian
Thaddeus– For a fur-baby with lots of courage
Tiger-Suits a large and powerful ragdoll feline
Valentino– This Italian name suits a brave and strong cat
William– The royal Prince William, Duke of Cambridge
Wilson-Name your cat after the cartoonist who created Ziggy
Zackary– Ideal for your strong and powerful ragdoll
Zavier– Inspired by an adventurous character in the video game Rune Factory
Female Ragdoll Cat Names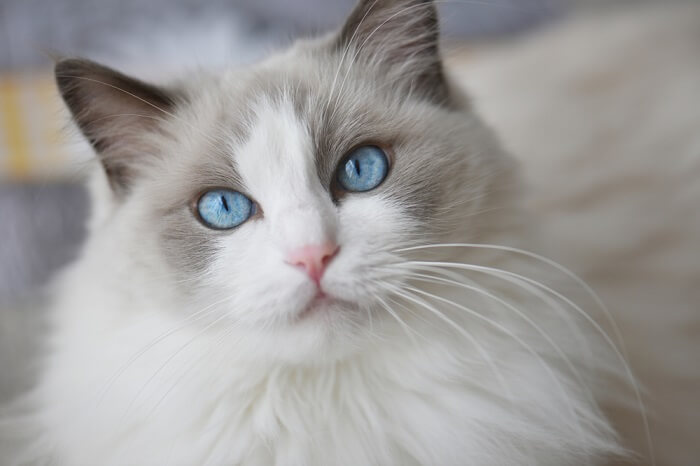 Adrianna-Adriana Lima, the most valuable model of Victoria's Secret Angel
Alannah-Irish name meaning attractive for your very beautiful puss
Anabelle– A Latin name for a lovable cat
Annalise-A lovely name for a graceful kitty
Ariel-The curious princess in The Little Mermaid
Arielle– Means lion of God in Hebrew, suits a fearless ragdoll cat
Ayasha– Prophet Muhammad's youngest wife
Barbara– The tough Shark tank investor, Barbara Corcoran
Barbie– For the love of this fashion doll
Beatrice– Refers to bringer of Joy in Latin
Betty Boo– Inspired by the famous pop-rap artist
Blossom-Suits a lively and cheerful puss
Bonny– A wonderful name for a beautiful and healthy cat
Bunny– For your gentle and caring kitten
Cacia– Suits a brave and vigilant feline
Camilla– As in Camilla, Duchess of Cornwall
Carla– Ideal name for your strong ragdoll
Carmen– A fictional character in the series Spy Kids
Caroline– Caroline Forbes, a loyal and caring character in The Vampire Diaries
Cassandra– The one who always warns you of danger
Cecelia– The patroness of music, St Cecelia
Coco– A stylish fashion designer, Coco Chanel
Colette– Greek name meaning victory of the people
Cordelia– A kind and honest character in Shakespeare tragic King Lear
Cupcake– Suits your adorable and sweet kitten
Cynthia– Greek Mythological moon goddess, perfect name for your ragdoll with rare beauty
Cyrilla– Great name for a well-mannered cat
Darcell– Means fortress in Irish just like your strong cat
Dhalia– The colorful dhalia flower, a symbol of grace and kindness
Dolly-The ever beautiful country music singer, Dolly Parton
Dorothy– A sweet and caring character in Wizard of Oz
Elsa– The powerful and caring blue eyed princess Elsa of Frozen
Emily-Suits your industrious feline
Esme– Short form of Esmeralda, a kind and caring gypsy in The Hunchback of Notre Dame
Esperanza– A Spanish word meaning hope
Eve– The biblical first woman
Faye– Suits your ragdoll who you trust with your secrets
Forba– Scottish name meaning headstrong
Gilah– Suits a ragdoll feline who gives you eternal joy
Gwendolyn– For a ragdoll cat with a white brow
Havalah– Give your puss full of life this Hebrew name
Holly– As in the holly flower found on Christmas decorations
Johanna– Suits your graceful cat
Judith– For an adorable and praiseworthy puss
Julianne– For a kitty who loves to play
Kailan– A kitty full of innocence
Kesara– A youthful ragdoll cat
Kristina– Great name for your most loyal cat
Lea– Greek name meaning bringer of good news
Lila-Suits a playful cat
Lilianna – Lily flower, a symbol of innocence and beauty
Madelynn– Erotic romance author, Madelynne Ellis
Mae-A lighthearted actress and singer, Mae West
Magnolia-An impressive large white flower, a symbol of beauty, sweetness, and perseverance
Mairona– Your ragdoll cat is sweet as the sound of this Irish name
Maisie– Refers to child of light in Scottish
Margot– As precious and beautiful as a pearl
Matilda– French name meaning strong in war, ideal for your fearless feline
Mellow-An Italian reggae band, Mellow Mood
Nudara– Give your precious kitty this Arabic name meaning gold
Ophelie– A loyal and innocent character in Shakespeare drama Hamlet
Pearl– A precious white fur-baby full of beauty
Penelope– A loyal and patient character in the poem Odyssey
Pippa– Name your cat after the English socialite, Pippa Middleton
Priscilla– Inspired by the film, The Adventures of Priscilla, Queen of the Desert
Raleigh– If you love cycling, name your outdoor cat after this bicycle brand
Sabrina– Arabic name meaning white rose
Seraphina– Hebrew origin meaning burning fire, suits a powerful and fierce ragdoll cat
Sky– Reminds you of your cat's blue eyes
Sugar– For a sweet and adorable kitten
Tatiana-Princess Tatiana of Greece and Denmark, for your ragdoll with royal roots
Teresa-Mother Teresa, a caring nun with a warm heart
Tiffany-A luxury jewelry brand, suits a precious stylish cat
Veronica– Just like your victorious ragdoll cat
Virginia– For an innocent feline
Willow– Suits a slim but strong kitty
Zadie– For a precious ragdoll who likes to be treated like a princess
Zelda– The beautiful and high spirited novelist, Zelda Fitzgerald
Unisex Ragdoll Cat Names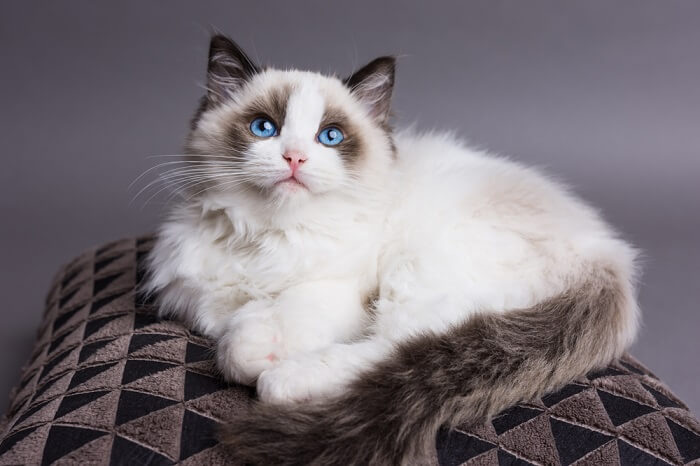 Ally– Suits a cat with a noble bearing
Azure– A lovely name for a ragdoll with beautiful sky blue eyes
Benevolent– Ideal for a cat with a kind and warm heart
Beryl– For a precious puss with a dazzling coat
Blessing– A lovely name for a graceful cat
Blissful– A cheerful feline who gives you joy
Blue Bell– This flower represents an everlasting love for a cat you're grateful to have around
Breezy– Suits your cheerful and carefree cat
Bright-eye– The sparkling eyes of your cute cat
Celeste– A Latin name meaning heavenly, great name for your calm and peaceful ragdoll with sky blue eyes
Cerulean– Refers to a shade of blue
Charmer– Suits a funny, witty puss
Cheery– Ideal for a happy and cheerful feline
Cherub– Suits a beautiful and innocent guardian
Cobalt– This metal ore is Bluish- gray
Cornflower– For a fur-baby with colorful blue eyes
Cuddles– A wonderful name for an affectionate and lovable furry friend
Cushy– Perfect for a social puss comfortable to have around
Darling– A lovable cat dear to you
Dashing– For an adventurous, beautiful feline
Dazzler– A character in X-Men comic books
Devotee– Unique name for your strong and determined cat
Dreamer– Sky is the limit in your ragdoll's dreams
Drowsy– Suits a calm and peaceful cat
Duke– Duke Blue is associated with Duke University
Feather– For your swift puss
Felicity– Refers to great happiness in French
Fisher– Ideal for a strong puss with sharp claws who loves hunting
Fluff Ball– Suits a feline with a soft coat
Frontier– Ideal for a strong guard ragdoll cat
Fuzzy– For a cat with very soft curly hair
Genteel– Suita a gracious, calm puss
Goofy– A silly yet funny cartoon character
Guardian– Suits a protective cat that guards your home
Guiding Star– For a fur-baby who gives you inspiration
Harmony– If you are in perfect harmony with your ragdoll
Illumine– Suits a cat with a shiny coat
Joy– A cheerful and happy feline
Kingship– For a ragdoll with royal history
Kori– Name your large, heavy cat after the Kori bustard bird
Lance– Suits a fierce and powerful cat
Marty– English name meaning warrior of Mars, perfect for a fearless cat
Mellow– For your calm cat with a warm heart
Mercury– Roman name meaning messenger of gods, ideal name for your loyal and intelligent ragdoll
Moony– A lovely name for a silly feline
Musing– For a lazy puss always lost in thoughts
Napa – Short form of Napayshni, perfect for a courageous and strong cat
Nap-time– Suits your ragdoll who loves sleeping
Night– Suits a stealthy dark fur-baby
Noot– Your cat will love it when you call him Noot Noot!
Pacific– For a peaceful cat with big blue eyes
Pho– Pho and Mia were the first cats to be imported to the west
Pillow– Suits an affectionate cat with a soft coat
Placid– Just like your calm and peaceful puss
Plushie-As in the soft stuffed toy
Polo– Tibetan name meaning brave wanderer
Popstar– A fun of pop music
Remedy– A feline who is your comfort
Ritzy– Suits a cat with a unique sense of fashion
River– great name for your powerful carefree fur-baby
Sapphire– Your cat's eyes look like this precious blue gemstone
Sea Glass– Cute name for your beautiful cat with a smooth, shiny coat
Shimmer– A wonderful name for a puss with a soft bright coat
Silky– For a gentle cat with a soft coat
Skylar– Ideal for a strong guard feline
Sleepy– A lazy puss who love her nap
Sleepyhead– If you enjoy your cat's affectionate snuggles
Snazzy– Ideal for a beautiful puss with a stylish coat
Snuggly– You enjoy their warm snuggles
Softie– Suits a feline with a soft spot for you
Solace– For a puss who gives you comfort
Spiffy– A sassy ragdoll who steals the show
Spike– Suits a powerful ragdoll cat with sharp claws
Squeaky– They are annoying, but you enjoy it
Stardom– Perfect for your talented, famous puss
Sweet Pea– This lovely flower symbolizes a kind-heart
Topaz– The precious blue topaz is the gemstone of calmness and peacefulness
Tranquil– Ideal for your calm and peaceful cat
Turquoise– For a ragdoll with greenish-blue eyes
Trigg– Means trustworthy in Scandinavian
Vandy– For an adventurous puss who enjoys the outdoors
Yankee– Suits your loyal and bold ragdoll cat
Conclusion
Hopefully, you have found a favorite moniker for your sweet kitty in our long list of ragdoll names. And we hope they love it!
If you still need more suggestions, check out below for more cat names and their descriptions.