The 240 Best Siberian Cat Names
This page contains affiliate links. We may earn money or products from the companies mentioned in this post through our independently chosen links, which earn us a commission.
Siberian cats originated from Russia. These cats' most distinct features are their long plush hair, large eyes, and plumed tails.
If you're looking for a name for your Siberian cat, you'll be happy to know that their Russian roots can be a source of great cat ideas. So is your Siberian cat's personality, coat color, and size.
Honestly, the possibilities for finding the perfect Siberian cat names are endless.
So, do have some fun checking out our Siberian cat names, and let us know if there is one you liked.
Male Siberian Cat Names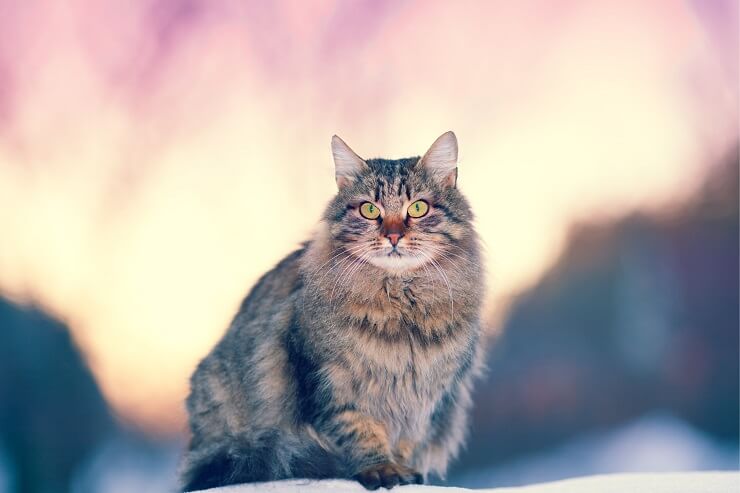 Adrian – The holy fire
Adrik – Because Adrian is too common
Afanasi – Because he's immortal
Afanasy – He is the cat of your dreams
Albs –Your all-white Siberian cat
Alexi – For your Siberian defender
Alyosha – He keeps your home safe
Anatole – One who brings you hope just like the sunrise
Arden – For a feline who you rescued from the forest
Azhur – Your shy cat
Azhur– The one with the shining eyes
Azik – For a fur-baby who makes people laugh
Baikal – If he's an outdoor cat
Barhat – Your cat is like the brother you never had
Barnes – His favorite place is in the barn.
Barrington – One who has light-colored eyes
Bates – Because you found him on a boat
Beasley– Perfect for your veggie-loving cat
Beck – He was washed up from upstream, and we rescued him
Benson –If you're named Ben, name him Benson, he's your son
Berkeley – For a cat who loves to hide in the trees
Biff – The hard hitter
Bimka – Because he is just lovely
Blake – For your black Siberian cat
Bogdan – He is your special gift from God
Boris– He's a warrior
Bowie – Your Siberian feline with yellow eyes
Boyce – Perfect name if you found him in the woods
Buster – One who is as tough as nails
Byron – If your fur-baby loves the company of cows
Cadman – Your humble servant
Calhoun – Bushbaby.
Changa – Warrior chief
Chauncey– He's the leader of the pack
Chekhov – Name him after one of the greatest playwrights in Russia
Chernouh – Perfect for a cat with black perches on the ears
Chernysh– A common name in Russia
Cheslav – Because he's well protected
Colvin – Your Siberian puss is the source of your joy
Conrad – Bold and courageous
Dax – He leads other follow
Dewey – Everyone loves your Siberian feline
Dmitry – For your cat who is devoted to your family.
Duke –Your cat who helps keep law and order
Egor – Suits a Siberian feline who is an experienced hunter
Elbrus – Foe a feline who never lets his guard down
Elisei – God-given, he is your salvation
Elvin – A true friend
Ermolai – A sneaky cat
Farley – Ideal name for a fearless cat
Felix – For a puss who brings you good luck
Forrest – For your wild cat
Fyodor – He is a treasured gift
Gavriil – Means God is my strength in Russia
Gerasim – A honorable elderly cat
Igor – A distinguished warrior
Ilya – The lord is my God
Innokenti – Perfect for a kind-hearted cat
Isaac – For your comedian cat
Isidor – Perfect, if your cat was a gift from a special person
Ivan – Because my God is gracious
Ivan – Russian name meaning a wonderful God
Jai – Suits a cat who represents victory
Jasper – A treasured feline
Jax – Because your cat's father's name was Jack
Kazimir – If you are never at peace when your feline is around
Langston – Means Longstone, one who is as hard headed as a rock.
Leo – A feline who is as brave as a lion
Leonid – Suits your Siberian cat with a lion spirit
Leonti – A go getter
Leonty – The king of the jungle
Lester – A Siberian cat from Leicester
Loann – Another name for John
Losif – God decided to give you another cat
Lyosha – A strong muscular Siberian cat
Lyutyi – Suits a fierce and dangerous cat
Makari – He's blessed
Maksimilian – The greatest Persian cat who ever lived
Mark – Your Siberian feline who fights other pets
Markov – Because of his threatening eyes
Max – Short for Maxwell
Melvin– Your protector
Mikhail – Because God has been gracious to you and your cat
Moriz –Your noble cat
Motya – Suits your cat who is a gift from God
Mstislav – Because he is the most popular cat in the neighborhood.
Nikolai – His twin brother, is called Nicholas
Nikolai – If you're thinking of naming him Nicholas, why not call him Nikolai? It sounds better
Norton – For a cat who is from the northern town
Ogden – Suits a cat who is from the Oak valley
Ohotnik – He is your dream come true
Oliver – If you found him under an Olive tree
Oscar – A mighty warrior
Oswald – A distinguished ruler
Phineas – For your wise Siberian cat
Pirs – For your feline who helps keep law and order in your home
Poe – If your feline is as proud as a peacock
Ponchik – Something sweet
Prince – Perfect for your fur-baby with a noble cat
Pyotr – He is your rock, isn't he?
Radley – Suits a cat who loves to play by the swamp
Ranger – The forest protector
Ridley –Perfect name for your feline who is always nibbling on grass
Riley – Suits your courageous cat
Sammy – God listened to your prayer and gave you your adorable feline.
Sawyer-For your adventurous cat, inspired by the novel The Adventures of Tom Sawyer
Sebastian – Ideal name for an honorable cat
Sergei – Your humble servant
Simon – He is a keen listener
Tobias – If he is the perfect sign of God's kindness
Tyler – For a Siberian feline who is a builder
Venyamin – Because he is your right-hand man
Viktor – My son is a victor
Vladimir – A ruler of peace
Yuri – Because he loves to play on the farm
Yuri– A farmer's cat.
Zasha – Your fur-baby is always ready to defend you
Female Siberian Cat Names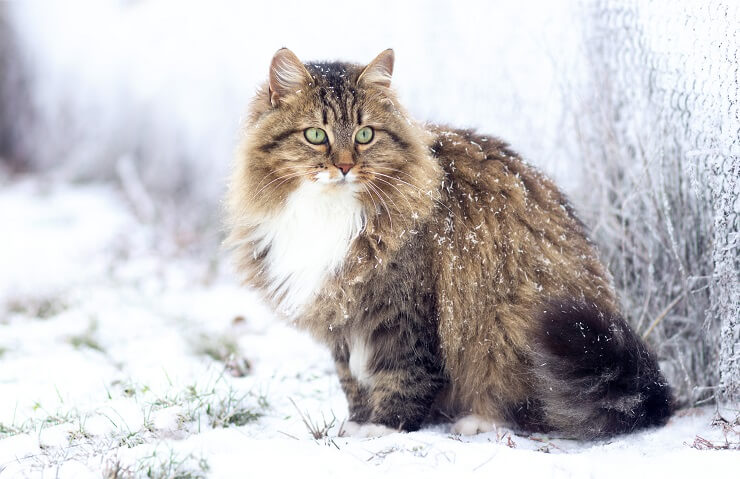 Aglaya – She's your shining star
Agnessa – A feline of pure Siberian breed
Agrafena – Perfect name if she's always on the move
Aleksandrina – Because Alexandra is too common
Alexandra – If she keeps other pets from your home
Alina – Because she is beautiful
Alyona – For your feline with an attractive brightly colored coat
Anastasia – If she is adopted
Anna – A symbol of God's favor
Anya – Mean born again
Anzhela – If you feel she is the messenger of God
Anzhelika – Your Siberian cat is an angel
Arisha – She is the queen on the throne
Asia – If your feline survived a deadly accident or illness
Audrey – From a noble background
Ava – Suits your Siberian fur-baby who is full of life
Babushka – She's the mother of all your cats
Barynya – She is the lady of the house
Baryshnya –Give your cat this name if she is clean and decent
Bella – For your pretty Siberian cat
Biryuza – Great name for a Siberian cat with green-bluish eyes
Callie – cute name for a beautiful cat
Camellia – She is your helper
Celeste – She is heaven sent
Chita – This is a beautiful name for a speckled cat
Claudia – For your brave feline who walks with a limp
Clementine– Her eyes are full of mercy
Daria – The keeper of the truth
Dasha– Your precious gift
Desna – The boss lady
Diana – The goddess of the hunt
Dominique– Your Siberian kitty, came from God
Dusha– Perfect name if she is your soul
Ekaterina– For a feline who is pure in heart
Elena – She is a shining light
Eve –One who is a living testimony
Fay – Perfect name for a loyal friend
Gloria – Means immortal
Gracie – If your Siberian cat is a blessing
Gypsy – A Siberian cat with Indian roots
Harley – If your Siberian cat loves the woods
Harper – Her meow is like music to your ears
Haven – Suits a feline who makes you laugh when you're lonely
Heather – A flower
Hope – She brought a new meaning to your life
Inga – Because she is the queen of peace
Irina – Peace goddess
Irinei – A Greek goddess
Isolde – Fair lady
Ivy – For a charming cat
Joy– Joy is what your kitty gives you
Katerina –She is pure and beautiful
Kiana – Suits your friendly and pleasant fur-baby
Kimber– She is bold and brave
Kir – The mistress
Klara– Because your Siberian feline is famous
Kristina – If she is part of your Christian family
Larissa – For a feline who is from a small city
Leia – Heavenly flower
Lesta – For a Siberian cat who was born in England
Lily– She is full of passion
Lola – Your beautiful Siberian cat who is very tiny
Lucy – For a Siberian cat who was born at dawn
Ludmilla – She is the people's favorite
Lydia – The noble one
Margarita – She is the mother of many kittens
Marina – For a cat who you rescued from the sea
Marina– If she loves the beach
Mariya – Suits your cat who is extremely sharp and intelligent
Marley – Perfect if your cat finds favor with everyone
Mary – If everyone in your home loves her
Maya –Suits a cat who plays tricks on you
Milena – A cute name for your beloved Siberian puss
Miroslava – If she is a lover of peace
Misha – In the likeness of God
Molniya – She is as quick as lightning
Nastya –Your cat who is reborn
Natalya – If she was given to you as a Christmas gift
Natasha – Suits a puss who was given to you as a birthday gift
Nika – Great name for an obedient fur-baby
Nina – My little girl
Odessa – If your puss bites and no one dares to make her angry
Oka – Because she has a tall and slender body
Oksana – She's just stunning.
Olenka – Suits a mischievous puss who acts like the holiest pet
Olesya – Means the holy one
Olga– If you are all blessed to have her
Paige – She is your personal assistant
Paulina– The youngest cat in your home
Piper – She loves it when you play some music
Rada – She is always happy
Regina – She is stylish and the queen of the prom
Sasha – She is your front door guard
Vova – Name her after a famous ruler
Unisex Siberian Cat Names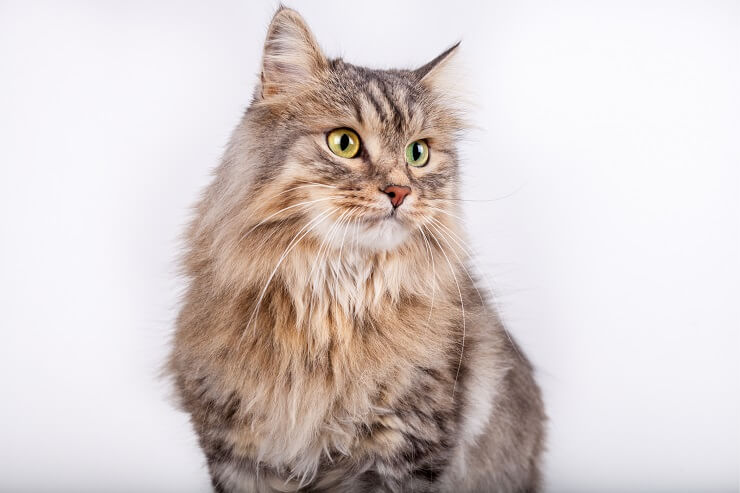 Gleb- Son or daughter of God
Gregory- Suits a feline who is always alert
Grigori- The night watch guard
Jalen- The healer of all sorrows
Jazz- Your cat is as soothing as jazz music
Kolya- If your feline is a born winner
Konstantin- Suits your puss with a steadfast gaze
Kuzma- A feline who brings harmony to your home
Mill- Name your cat Mill, a short form of Milton
Mishka- This is for a cat who has smooth white fur like a bear
Nadia- If your feline was a source of hope in times of a pandemic
Nikola- Suits a Siberian cat who represents victory
Palmer- A holy traveler, for a cat who loves adventure
Pasha- Perfect for your small Persian cat
Petya- Russian for stone, fits a very stubborn cat
Pyshka- Perfect for an independent cat
Raven– Your wise dark cat
Razluka- The quiet one
Rifma- The cat of your dreams.
Roksana- A bright star
Sashenka- Your frontline soldier
Sezja- The guardian of the galaxy
Shurik- Your feline is your defender.
Spyridon- Your cat who always sleeps in your bed
Vadim- If your Siberian fur-baby is to blame for all the mess in the house
Vanya- A gift from God
Vanya- Because your feline is faithful
Varfolomei- Because you and your cat live in the countryside
Wiley- Suits your cunning Siberian cat
Zakhar- If your feline is a symbol of God's manifestation
Conclusion
You must have gotten a name by now for your beautiful Siberian feline.  If not, check out other cat name ideas below.
And if you have a Siberian cat whose name we haven't included in our list, don't hesitate to let us know in the comments section below.
Also Read:
Best Cat Food For Siberian Cats
Siberian Cat Colors And Coat Patterns: Pointed, Bicolored, Smoke