The 235 Cute And Coolest Cat Names
This page contains affiliate links. We may earn money or products from the companies mentioned in this post through our independently chosen links, which earn us a commission.
Some cats are so effortlessly awesome!
If you have a king or queen of cool or cute in your home, you need to give them a name that has something extra. And we have just the right inspiration for you.
So, without further ado, here are 235 names that are so hip that your feline rockstar will certainly approve.
Male Cute and Coolest Cat Names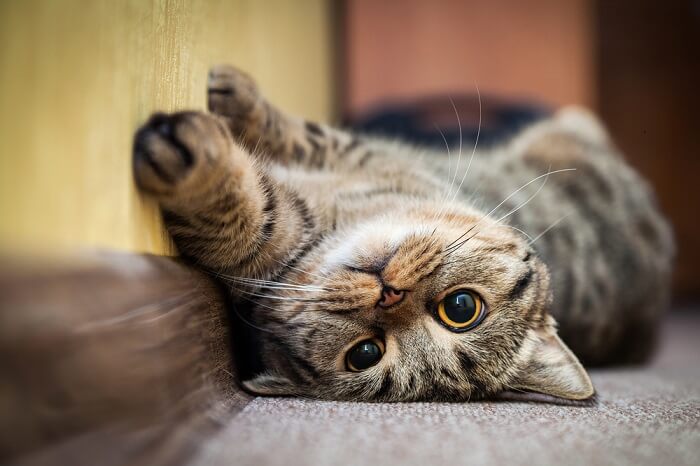 Abraham– Hebrew name meaning father of many
Adam-Biblical first man, suits your cute red-haired cat
Albner– Hebrew name meaning father of light
Ali-Means greatest in Arabic
Alfie– Give your smart and intelligent cat this name
Anwyll– Welsh name meaning loved by all
Archie– A name for a brave and bold kitty
Arlo– Means strong in Latin
Armstrong– Name your cat after the first person to walk on the moon, Neil Armstrong
Arnold– Suits a strong cat just like the actor Arnold Schwarzenegger
Atticus– A fictional character in the novel To kill a Mockingbird
Barney– A name of Germanic origin meaning strong as a bear
Beau– A lovely name for a cute puss
Bengie– Refers to son of the right-hand, perfect for your hip trustworthy cat
Biff– A cool name for a strong cat
Boba– Most popular Star Wars character, Boba Fett
Bobby-Name your cat after the professional wrestler and martial arts artist, Bobby Lashley
Bradley-Bradley Cooper, American actor
Bryn– A welsh name meaning hill for your adventurous cat
Buddy– Your best friend
Buster– A petty thief character in the film Buster, suits a naughty cat
Carlo– Suits a strong and brave cat
Carter-The 39th United States president, Jimmy Carter
Casper– The friendly ghost
Clay-As is Clayne Crafford, a character in the Lethal Weapon series
Connor– Irish name meaning lover of hound, a unique name for a cat!
Cooper– Fictional character in Big Bang Theory, Sheldon cooper
Cowboy– Suits your courageous and loyal cat
Dash– For a swift cat
Davey-The professional wrestler, Davey Boy Smith
Dru– A hyper character in the animated film Despicable Me
Duke– For a cat of noble bearing
Dylan-The greatest songwriter, Bob Dylan
Ezra-Name your cat after influential poet and critic, Ezra Pound
Felix– The funny animated character, Felix the cat
Finn– Fictional character in Star Wars series
Fizz– Cool name for your naughty and playful kitten
Freddie-Rock lead vocalist of the Band Queen, Freddie Mercury
Gavin– Perfect name for your strong cute cat
Gordon– This Gaelic name meaning hero is perfect for a triumphant kitten
Grayson– Refers to son of gray-haired
Gus-Your cool and great cat deserves this name
Hans– For the love of the live television show Pumping with Hans and Franz
Hendrix– Electric guitarist Jimi Hendrix
Henry– Superhero animated series character, Henry Danger
Horrace– The man of the time, suits a punctual cat
Hux– General Hux, a character in the Star Wars series
Jake-A variant of Jack meaning God is merciful
Jed– A Hebrew name meaning friend of God, suits a trustworthy cat
Jerry-The intelligent cartoon character in Tom and Jerry
Jiggy– Suits an energetic puss
Joey– A loyal and caring character in the series Friends
John– Hebrew name meaning God is gracious
Jordan– The cool basketball player, Michael Jordan
Kip-Name your cat after the famous model and actor, Kip Pardue
Kyle– Your slim cat deserves this name
Lyle– French name Meaning Island
Magnum– A great name for a big magnificent feline
Matt– Short form of Mathew meaning gift from god, suits your gracious cat
Mortimer– Refers to still water, perfect for your secretive and mysterious fur-baby
Monty– For a cat who has taken over your house
Mylo-Inspired by Scottish singer, Myles MacInnes
Nelson– Nelson Mandela, South African freedom fighter
Noah– Suits a quiet and peaceful cat
Odie– A lovable and kind character in the cartoon Garfield
Oliver-Charles dickens famous novel Oliver Twist
Oscar-The author of The Picture of Dorian Gray, Oscar Wilde
Parker-The fictional character in the Spider-Man films
Petey-The ginger cat in the book Tales of two Kitties
Preston– Inspired by the author, Douglas Preston
Rajah-Princess Jasmine tiger in the animated film Aladdin
Razor-The superhero from the comic books
Ricky-Ricky Ricardo is a character in the series I love Lucy
Salem-Suits a peaceful cat
Seb– Short form of Sebastian, the little Jamaican ascent crab in the cartoon The Little Mermaid
Snickers- A brand of chocolate bar
Snowball– The intelligent pig in the novel Animal Farm
Sonny-For your adorable little kitty
Squeak-For a cat who loves attention
Taylor– George Taylor, a character in the film Planet of the Apes
Theo-A Greek name meaning gift from god
Toby-The cautious turtle in the animated film Robin Hood
Todd– Scottish name meaning fox, an ideal name for a loyal and smart kitten
Tonka-For a praiseworthy kind of cat
Tyler– A wonderful name for a determined cat
Warrior– Suits a courageous feline
Ziggy-Of Germanic origin meaning victorious protector
Female Cute and Coolest Cat Names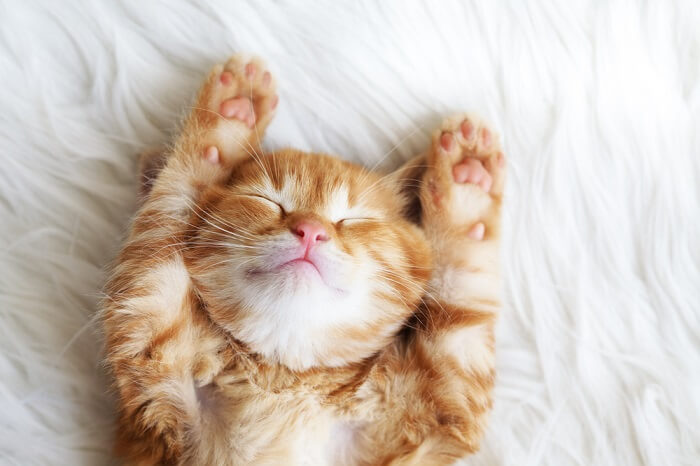 Abbey– Perfect name for your cat who brings you joy
Adele-What a cute name!
Akira –Suits a bright and intelligent cat
Amie-Suits a lovable and friendly puss
Annie-You gracious cat will love this name
Aspen-The aspen tree, a symbol of protection
Aurora– Roman goddess of dawn
Ava-This Latin name suits an energetic and free-spirited cat
Bella– Cute name just like your beautiful cat
Bessie-Jazz and blues singer referred to as the empress of blues, Bessie Smith
Beth– A sweet Hebrew name meaning God is my oath
Brooklyn-After the beautiful town in New York City
Cali– Colombian city popular for its salsa dance
Charlotte– Ideal for your free-spirited cat
Chloe– Suits a kitten who's full of life
Clara– For your beautiful cat with a bright coat
Clementine– For the love of this orange fruit
Dana– Name your cat after the professional wrestler, Dana Brooke
Darcy– French name meaning dark-haired
Darla– A lovely name for your darling fur-baby
Dena-The largest and longest Zagros Mountain ranges
Dixie-The cool all-female country music band, Dixie Chicks
Dolly-Famous American actor and singer, Dolly Parton
Dora– Greek name meaning gift
Echo– Greek mythological mountain nymph
Edith– English name meaning prosperous in war, great name for your victorious cat
Elektra– Comics superhero character, Elektra Natchios
Elise– The spider queen in the video game League of Legends
Espresso– For the love of this Italian coffee brew
Eve– Suits a beautiful, lively cat
Fifi– The adventurous character in the animated series Fifi & the Flowertots
Frankie– Suits a loyal and trustworthy cat
Georgie-Lady Georgia, a charming animated character
Gina-Refers to a queen in Italian
Gracie– After actress, singer and comedian, Gracie Fields
Halley– Suits a cat with a big heart
Hazel– For a charming and mischievous cat
Heidi– Inspired by the children book by Johanna Spyri
Hera– Greek goddess of marriage, women, and family
Hollie– For a cat with a lucky charm
Ingrid-The beautiful Swedish actress who featured in the film Casablanca, Ingrid Bergman
Jackie-After the former first lady of United States, Jackie Kennedy
Jenny-Inspired by the famous actress and model Jenny McCarthy
Katniss-A strong and resourceful fictional character in Hunger Games
Kelly– Refers to warrior in Gaelic, a fitting name for your brave cat
Lass– For a cute little kitty
Lia-Greek name meaning bearer of good news
Lola-Inspired by the cartoon series Charlie and Lola
Lynn– Germanic name meaning waterfall, suits a powerful fur-baby
Maddie-Refers to battle maiden just like your courageous cat
Meeko-Friendly and greedy raccoon in Pocahontas
Mila– For that cute gracious cat
Molly– Suits a rebellious and naughty cat
Natalie– Means born during Christmas in Russian
Nelly-After the famous singer Nelly Furtado
Nessie-The famous Loch Ness Monster of the Scottish folklore
Nina-A professional assassin in the game series Tekken, Nina Williams
Nova-For a kitty who is new in the family
Opal-A precious gemstone associated with love and passion
Paige– Latin word meaning helper
Paisley– Inspired by Persian textile pattern design
Penny-A brave character in Disney's film The Rescuers
Pippa- After Socialite, Pippa Middleton sister of Catherine the Duchess of Cambridge
Pippi-A strong character in the children novel Pippi Longstocking
Polly– Suits a naughty and rebellious cat
Rae– A lovely name for your loyal friend
Raine-A name of French origin meaning queen
Rio– Refers to river in Spanish
Ripley– The bizarre events in Ripley's Believe it or Not
Robyn-After the famous hip singer Robyn Rihanna Fenty
Rosemary– A fragrant evergreen herb
Roxie-Roxie Hart, a fictional character in the play Chicago
Sara-Hebrew name meaning princess
Scarlett-Inspired by the highest-paid actress Scarlett Johansson
Selene– Mythological Greek goddess of the moon
Skylar-After American singer Skylar Gray
Suki– A tough and confident warrior in the Avatar
Spice– Suits a cheerful cat who gives meaning to your life
Starbuck– If you love coffee, name your cat after this largest coffeehouse chain
Tessa-After ice dancer, Tessa Virtue
Trixie-For a cat who gives you joy
Venus– Roman goddess of beauty and love
Wanda– Wanda Maximoff, a fictional super heroine character in the Avengers
Wrigley– World's leading manufacturer of chewing gum and chocolate
Xena- The princess warrior
Zara– Suits a cheerful beautiful cat
Zinnia– Refers to garden of flower, suits a very beautiful puss
Zoe– Means life in Greek, a fitting name for a cheerful feline who is full of life
Unisex Cute and Coolest Cat Names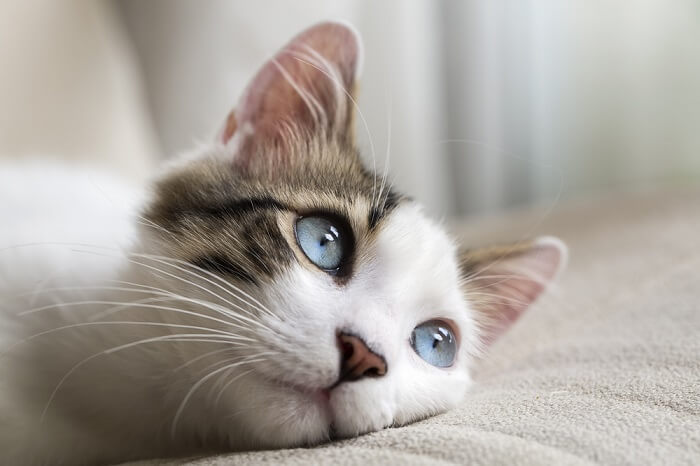 Ale-If you're in love with this fermented malt beverage
Asia– A beautiful name for your lively kitty
Aslan-The character in the book Chronicles of Narnia
Avery-Suits your cute intelligent cat
Beanie– This cool hat suits a furry cat with a warm heart
Bet– A cat that never lets you down
Bingo– Suits a triumphant puss
Boomer– A cool name for a conservative cat
Bullseye– For a victorious kitty
Blaze– For a fierce and powerful cat
Blossom– For a cat full of life like the spring flowers
Chance-Inspired by the novel by Kem Nunn
Char– Pork barbecue char siu
Cheetah– A fitting name for a big and fast cat
Chippy– Suits a cat who loves fish chops
Clue– Why not name your favorite puss Clue if you love this comedy film
Corn– Suits a tiny kitten
Crew– For a cat who loves your company
Crispy– The dragon in the animated series Sofia the First
Dancer– For a puss with moves!
Dexter– A genius boy in Dexter's laboratory
Doodle– Ideal for a silly puss
Ego– For a cat you're proud of
Fig– For a cat with a big heart
Frolic– Ideal name for a fun-loving and silly feline
Hunter– Cool name for a cat who likes to hunt
India– Suits a free-spirited cat
Jasper– Your precious cat deserves this name
Jazzy– For a fashionable and modern cat
Lynx– A perfect name for a loner and secretive cat
Kona– Coffee beans from Hawaii
Mellow– For a calm and peaceful cat
Merlot– For the love of this red French wine
Minx– A lovely name for a cunning fur-baby
Mock– For a funny and silly kitten
Mystery– Suits a quiet cat who keeps your secrets
Noodle– This long pasta dish makes a lovely name for a tall slender furry friend
Nutty– Inspired by the comedy film Nutty professor
Oat– This breakfast meal makes you energetic the whole day
Ocelot– The dwarf South African leopard
Pasta– A popular food made of unleavened wheat dough
Pax– Suits a peaceful puss
Phoenix– Ideal for a cat with a red coat
Rider– Refers to a mounted warrior, a fitting name for a brave cat
River– Ideal for a powerful and free-spirited cat
Saffron– Inspired by this expensive spice
Savannah– The beautiful plain grassland fields
Scat- A cool way of jazz singing
Secret-An attentive cat you share with your deepest secrets
September– For a jovial and cheerful puss
Skippy– A brand of creamy peanut butter
Slam-As in spoken words, poetry slam
Slink– For a very sneaky cat
Sorber– Name the after this mouth licking frozen dessert
Timber– Ideal name for a strong and tamable pussy
Tinker– Tinker bell, a stubborn and fearless fairy in the Peter Pan film
Tiptoe– For your quiet and peaceful cat
Trick– Ideal for a cunning feline
Twiglet– For the love of this brand of crunchy snacks
Wizard– Inspired by the musical film Wizard of Oz
Woody– Sheriff Woody, a smart and passionate character in the animated film Toy Story
Zap– A friendly yet mischievous water dragon in the video game Skylanders
Conclusion
Cool and cute right?
Well, now you have no excuse not to give your darling cat a hipster name.
But if these names don't strike the right chord, don't panic.  Have a look at our other lists of cat names below.