The 235 Best Calico Cat Names
This page contains affiliate links. We may earn money or products from the companies mentioned in this post through our independently chosen links, which earn us a commission.
Calico cats are naturally cute. They have colorful orange, black, and white patches that set them apart from other felines.
And they are amazing too! Did you know that calico cats are believed to bring good luck?
In Japan, calico cats are the symbol of fortune. So if you have recently adopted a calico cat, they may just bring you good fortune.
So what should you call your beautiful feline friend who is a powerful good luck charm?
Here is all the inspiration you need to give them a befitting name.
Male Calico Cat Names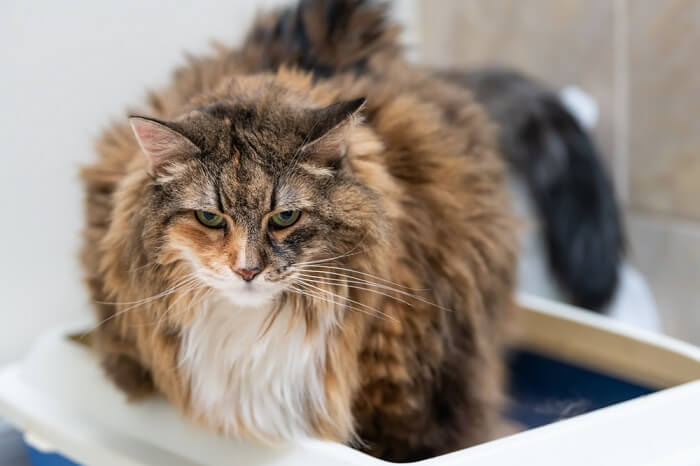 Addams– Inspired by the animated films The Addams Family
Amber– As in the naturally beautiful fossilized resin tree
Amun– Egyptian god of the sun and air
Angelina– Means little angle in Italian
Anubis– Egyptian god of afterlife, suits a guard Calico fur-baby
Aten– The Egyptian sun god
Azizi– An ideal name for your precious calico cat with a beautiful coat
Berlioz– A naughty kitten in Aristocrats just like your mischievous calico cat
Binx– The fun-loving cat in the film Hocus Pocus
Bram-Inspired by the author of the novel Dracula, Bram Stoker
Carrie– A character in the novel by Stephen King
Casper-The famous cartoon character, Casper the Friendly Ghost
Cayenne-This spicy hot chili has a mix of orange and red shades
Cheddar– A yummy brightly dyed cheese, perfect for your favorite multicolored calico puss
Chestnut-This edible nut makes a lovely name for a tough feline
Chucky– The frightening doll in the film Child's play
Chili-This hot pepper spices up your meals
Citrus– Citrus fruits are multi-colored like your favorite fur-baby
Copper– A shiny reddish-brown metallic element
Coral– A lovely name for a puss with a shade of orange
Craven-Wes Craven, an actor and novelist famous for his pioneering mix of horror and humor films
Cruella– A go-getter fictional character in 101 Dalmatians
Cujo– Suits your wild calico cat
Edgar– Name your cat after American poet Edgar Allan Poe
Ernie-A silly and energetic muppet from the Sesame Street show
Fester– A caring character with strange behavior in Addams Family
Fia– Refers to flickering fire in Italian
Fiorella– Means little flower in Italian
Frankenstein-Inspired by a horror and science fiction novel by Mary Shelley
Garfield-An orange cartoon character with black lines
Horus– Mythological Egyptian god whose left eye was moon and right eye sun
Heathcliff– Inspired by a smart cartoon character in the animated film Heathcliff and the Catillac Cats
Hebony– Suits a tough cat with shades of black
Herman-A character in The Munster television show
Hitchcock-Name your cat after the film producer Alfred Hitchcock, the master of suspense
Ichabod-A fictional character good at dancing and singing in the book The Legend of Sleepy Hollow
Igor-Russian name meaning warrior of peace
Jason-The super strong character in Friday the13th
Jekyll-Dr Jekyll battles between evil and good within himself in the book Strange Case of Dr. Jekyll and Mr. Hyde
Julius– Perfect name if you're in love with the delicious orange Julius beverage
Khafra-Egyptian ruler who built the second pyramid of Giza
Khalid– Arabic name meaning eternal, suits a fur-baby who gives you endless joy
Kiara– A wild hearted and adventurous cartoon character in The Lion King
Khufu-The first Pharaoh to build the pyramid of Giza, sounds like your determined calico cat
Lafayette-Inspired by a fictional character in Aristocrats
Lementine-A sweet, juicy, and tiny orange fruit
Lion– Suits your brave puss with yellow patches
Maize– Name him after the colorful orange corn
Marigold– This flower comes in bright shades of yellow or orange
Maryland– Calico cats are the official state cat of this mid-Atlantic state with lots of coastlines
Merlin– An intelligent wizard in Arthurian legend
Michael Myers– A fictional character in Halloween Slasher movies
Monarch– The monarch butterfly has a blend of black, orange, and white colors
Morticia-A seductive matriarch in the Addams Family
Mufasa– A wise and noble king in The Lion King
Napoleon– A clever and boastful character in Aristocrats
Nebit– Egyptian name meaning leopard-like
Nemo-An energetic and friendly Disney clownfish
Norman Bates– A fictional character in the novel Psycho
Oliver– A brave and caring character in Oliver & Company
Oriole-A small bird with a blackhead, orange chest, and two white bars on the wings
Osiris-The Egyptian god of the underworld
Penny– This coin has varying shades of red and brown
Picasso-Name him after the amazing multi-colored Picasso painting
Pudding– A sweet dessert, suits your adorable cat
Pugsley– A caring and cheerful member of The Addams Family
Ra-Egyptian god of the sky, earth, and underworld
Rainbow– Suits a beautiful multi-colored calico cat
Rajah– Princess Jasmine best friend and protector in the film Aladdin
Ramesses-The greatest and most powerful Pharaoh in ancient Egypt
Rembrandt– A painter of light and shades
Roquefort– The small mouse character in Aristocrats
Rusty– Suits a puss with a blend of orange and black fur
Scar– A cartoon character with black mane and orange fur in The Lion King
Sepia– A shade of reddish-brown
Serena– Italian name meaning Tranquil
Simba– A curious and adventurous character in The Lion King
Skellington-A charming character in charge of Halloween in Night before Christmas
Taco- A delicious Mexican dish of tortilla topped with fillings
Tiger– This powerful wild cat has orange fur with black and white strips
Tigger– A confident and caring cartoon in Winnie the pooh
Tortie– For a cute puss with yellowish brown patches on his coat
Female Calico Cat Names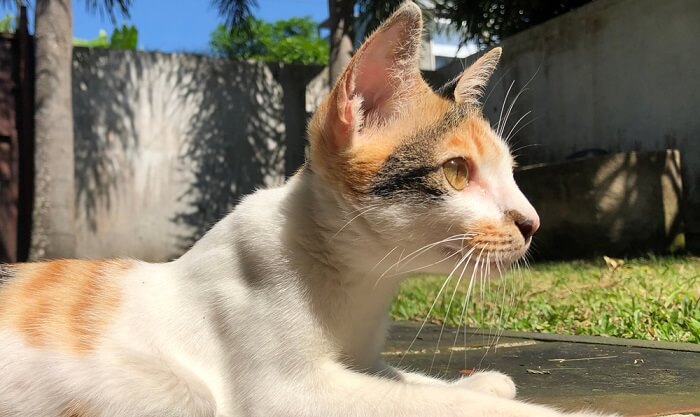 Aisha– Egyptian for tranquil
Akil– Suits your intelligent calico puss
Am– The naughty twin cat in The Lady and the Tramp
Amaretto– This sweet Italian wine blends well in different cocktails
Amenti-Egyptian goddess in the land of the west
Annika– For your cute and graceful kitty
Apricot-This stone fruit has a mix of red and orange
Aruba– A lovely Arabic name for a joyful and happy fur-baby
Blaze-A wonderful name for a lively and energetic calico cat
Blythe-Ideal for a playful and cheerful kitty
Boo– For a cat full of surprises just like the Halloween boo!
Brown sugar– A sweet name for your calico cat with shades of brown
Buffy-As in the strong and loyal Buffy the vampire slayer
Butterfinger– A crispy candy bar with layers of peanut butter covered with chocolate
Butterscotch– A yummy sweet treat just like your cat
Calista– Give your beautiful cat this Greek name
Callie– A lovely name for a cute calico cat
Callie–mae– For a beautiful calico cat born in May
Camille– Suits a well-mannered cat with royal history
Candy– The sweet treats common during the Halloween holiday
Caramel– A dark orange sweet dessert
Catrina-Inspired by Edgar Poe's tortoiseshell cat
Cheeto– Perfect if you're in love with this cheesy orange snack
Cheshire– A mischievous and intelligent cat in Alice in Wonderland
Chione– Refers to the daughter of the Nile in Egypt
Clementine– A small easy to peel orange fruit
Cleopatra– Suits an intelligent and charming puss
Columbia– Name your outdoor-loving calico cat after the Italian explorer, Christopher Columbia
Cookie– Adorable name for a lovely and sweet feline
Creamsicle– This brand of ice cream comes in orange and white colors
Cupcake– A small delicious cake on a small paper
Cybil– Greek name meaning the great mother of the gods
Dalila– Suits your delicate calico cat with a gentle touch
Danielle– Hebrew name meaning God be my judge
Darla– A friendly character in Finding Nemo
Dinah– A small red kitten in Alice in Wonderland
Disco-Suits a cat with a shiny coat
Donatella– Name your stylish cat after Italian fashion designer Donatella Versace
Dumpling– A delicious dish of dough with fillings
Elsa-An orphaned lioness in the film Born Free
Elvira– Inspired by the film Elvira, Mistress of the Dark
Eugenie-Suits a puss of noble blood
Fawn– A lovely name for a kitty with a yellowish-brown coat
Felicity– For a calico cat who brings you good luck
Femi– Suits a lovable puss
Freelance– A wonderful name for your loyal and fearless cat
Garnet-An amazing name for a calico cat with shades of red in her coat
Gingerbread– A sweet treat for an adorable cat
Guess– For your calico cat who is full of surprises
Halley– Ideal name for a mischievous cat with a multi-colored coat
Hannibal– Inspired by psychological horror television series
Harmony– Suits a peaceful kitten
Hazel– Hazel eyes have a mix of several colors just like your cute feline
Henna– For an orange cat with shades of brown on her coat
Hobbes-A playful orange and black cartoon in Calvin and Hobbes
Honey– Suits a sweet cat with a brown coat
Imhotep– A lovely name for your calm calico fur-baby
Irma– A name for a strong and independent calico cat
Jalapeno– A green hot chili pepper that spices up your meals
Jewel– A precious gemstone just like your valuable puss
Kahotep– Suits a peaceful cat
Kepi– Ideal name for a fierce calico puss
Kiki– A lovely name for a lovable and social kitty
Layla- Arabic name meaning dark beauty
Mairead– Irish name meaning pearl
Maisie– The beautiful multi-colored pearls, perfect name for a calico cat
Maneki– For a puss with good luck charm just like your calico cat
Mau- This Egyptian word for cat sounds cute!
Medusa– A beautiful woman having snake hair in Geek mythology, suits your cunning kitty
Meowthra– Inspired by the fictional creature in the film The lego Ninjago
Munchkin– Suits a calico cat with short legs
Mirage– A fictional character in the Aladdin television series
Nailah– Means successful in Egyptian
Nectarine– A yellow, red edible stone fruit
Nefertiti– The beautiful queen of Egypt in the 18th Dynasty
Neapolitan-After the delicious tri-colored ice cream
Nile– The longest river in Africa flowing through the borders of several counties
Nuru– An aggressive and fierce leopard in Legends of Tarzan
Orla– Irish name meaning golden princess
Pennywise– Pennywise the dancing clown in the novel It
Piper– Inspired by a bird in the animated short film Piper
Pumpkin– A large round orange-yellow squash
Reese– Reese's pieces candy comes in a variety of colors yellow, orange, and brown
Riona– Means queenly in Irish
Rosemary– A character in the film Rosemary's Baby
Sabor– The lioness in the film Legend of Tarzan
Sabrina– An intelligent and compassionate witch in Chilling Adventures of Sabrina
Sahara– The largest desert in Africa has a reddish yellow color
Sandra– Refers to the defender of men
Si– One of the twin cat in Lady and The Tramp
Stella– Name your stylish cat after fashion designer Stella McCartney
Sugar baker– For a sweet and adorable puss
Sui– Inspired by the fashion designer Anna Sui, suits a cat with great fashion taste
Sweetie– The adorable cat in the film The Fifth Element
Taffy– A multi-colored fluffy and chewy candy
Truffles– These wild edible fungi are very expensive
Unicorn– A mythological rare magical creature, a fascinating name for a kitty
Vera– A designer of wedding dresses Vera Wang
Victoria– Inspired by the distinctive Victoria Beckham fashion brand
Vivienne-Name your cat after Vivienne Westwood luxury fashion house
Wednesday– A witty character in Addams Family
 Unisex Calico Cat Names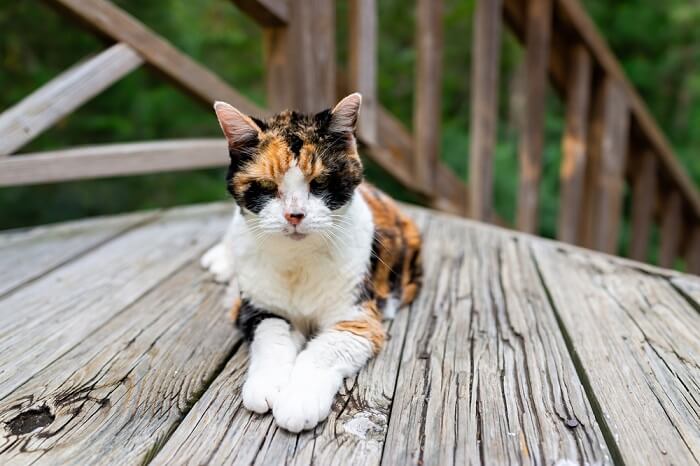 Autumn– Season between summer and winter when leaves of different colors fall
Brandy– This distilled wine is golden brown
Butterball– Ideal for a big calico cat
Camo– Short for camouflage, suits your colorful calico puss
Carrot– A delicious carrot cake for an adorable, sweet cat
Crisscross– Suits a cat with a mottled coat
Firestar– A courageous and loyal bright flamed cat in the novel series Warrior
Freckles– The beautiful coat pattern on your fur-baby
Gianetta– Italian name meaning God's gracious
Gin Fizz– A light yellow cocktail of gin, lemon, and sugar
Harlequin– A playful and intelligent breed of rabbit
Harvest– The fields are yellow-brown during the harvesting season
Hasina– Give your virtuous cat this Arabic name
Jigsaw– Perfect for a cat with an irregular coat pattern
Khepri-Egyptian name meaning morning sun
Kiwi– A juicy edible berry with bright green flesh and brown skin
Leaf– Trees shed leaves of different shades during fall
Maple– The maple tree leaves are orange, yellow, and red
Marble– The marble effect on your cat's coat
Marmalade– This sweet jam makes a lovely name for a calico cat
Mixit– Your calico cat has multiple shades of coat colors
Mkhai– Egyptian name meaning warrior
Mocha– If you're a fun of caffè mocha, extend the name to your cat
Molasses– This sweetener is the perfect moniker for your lovable calico cat
Monifa– Egyptian for lucky
Mosaic– For a calico cat with an irregular yet beautiful coat like a mosaic pattern
Mud pie– Name your cat after this delicious Mississippi mud pie
Nomti– Suits a powerful puss
October– Halloween month characterized by orange and black colors
Oni– Egyptian name meaning wanted for an adorable and lovable puss
Paprika-For the love of this reddish-brown ground spice
Patchwork-A lovely name for a calico cat with numerous coat colors
Peaches– The sweet edible yellow-orange fruit
Peanut-Suits a tough kitty with a sweet and gentle heart
Pebble– A wonderful name for a cute cat with a soft coat
Piccola– Italian name meaning little one
Pixel– Ideal for a cat with several tiny multi-colored spots
Poppet-A sweet, charming calico cat with convincing looks
Rolo– A brand of chocolate candy with caramel centers
Rye-Reminds you of the brown-yellow layers in the marble rye bread
Saffron-This spice comes in shades of red and orange
Sandy– The yellowish-brown shades of the sand
Skittles-A brand of fruit-flavored candy that comes in multiple colors
Snickers– This yummy chocolate bar is yellowish on the inside with a dark brown coating
Sorghum-Reminds you of the yellow, brown, and red sorghum fields, a fitting name for a small calico kitty
Spice– For a playful and cheerful cat who's full of energy
Squeaks– Suits a calico cat who likes recognition and attention
Sundae-Vanilla ice cream with a blend of chocolate and caramel
Sunny– For a beautiful and cheerful puss
Tangerine– A small orange-colored fruit
Twix– A sweet candy bar made of chocolate, caramel, and biscuit
Whiskers– For a sensitive cat with long fur
Zalika– Egyptian name meaning wellborn, suits a calico feline who is full of life
Conclusion
Calico cats originated from Egypt, but today you can find them all over the globe. If you're a calico cat parent you'll agree with me that they are just magical. And from our list of names, we hope you find the perfect moniker for your calico fur-baby who is an absolute joy to you and your family.