The Rare White Cat Breeds
This page contains affiliate links. We may earn money or products from the companies mentioned in this post through our independently chosen links, which earn us a commission.
There are many breeds that include a white cat, but a true white cat is defined by the lack of melanin pigmentation. As little as 5% of the total cat population can be called a truly white breed of cat.
If a white long-haired cat, shorthaired cat or hairless one is what you are looking for, then check out the list of white cat breeds below.
Deafness In White Cat Breeds
Some but not all, solid white cat breeds have a genetic mutation that causes deafness in one or both ears. This is most seen in white blue-eyed cat breeds. However, not all white cats or white cats with blue eyes are deaf.
Like humans, a cat's ear has a part called the cochlea which converts sound into a signal that can be passed on to the brain. In order to work properly, the cochlea needs melanin (the pigment that gives color to skin and hair). White genes prevent melanin from developing because it masks them. Therefore, the cochlea cannot convert and transfer the sound.
1. American Shorthair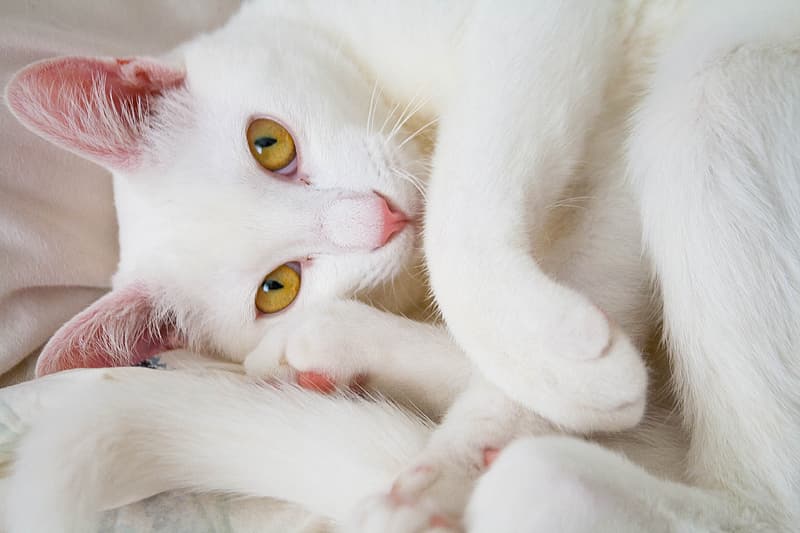 The American Shorthair has been in the U.S. since 1620 with the arrival of the Mayflower.
They are medium to large size cats with a big round head and large eyes to match. They are muscular cats and are known for being an excellent hunter. They have short, dense fur and although their most popular color is silver tabby, the pure white American Shorthair is just as pretty.
American Shorthairs are somewhat active, and you'll find they enjoy mealtime. This breed is usually laid-back, and is a good choice for families with kids and cat-friendly dogs.
2. American Curl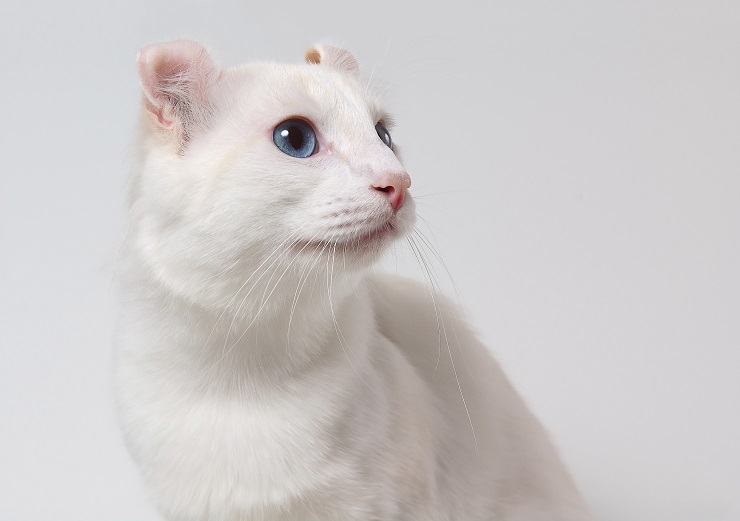 The American Curl is an unusual-looking cat that has only been around since the 1980s. This cat is medium-sized and comes in both short and long-haired types. Their standout feature is their ears, which fold and curl backward. Their ears are also surrounded by fur like a wild cat. They have a long body and plumed tail.
The American Curl is very intelligent. They love to be taught tricks and play with puzzle toys that will reward them with kibble or treats when he learns to master them.
3. British Shorthair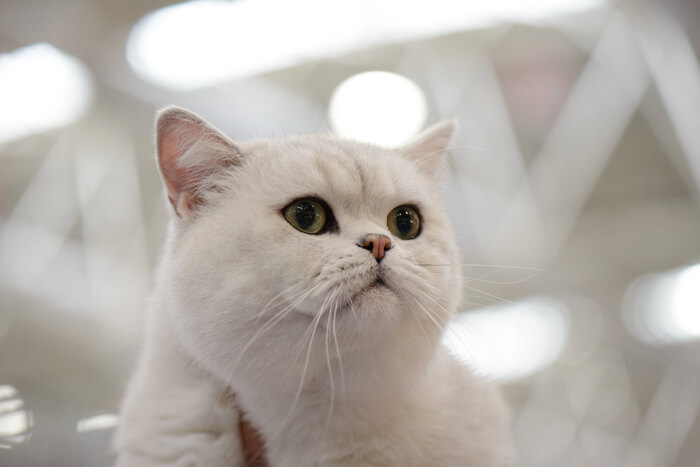 The British Shorthair is similar to their cousin, American Shorthair but they are smaller and are not as outgoing. Like the American Shorthair, their most popular color is not white, but instead blue. However, a solid white British Shorthair is a pretty cat with fur that feels plush like a stuffed animal. The white color also stands out against their big eyes which can be blue, green, gold or copper.
These laid-back cats are known for forming strong bonds with their owners. British Shorthairs are perfect for families with children and cat-friendly dogs.
4. Russian White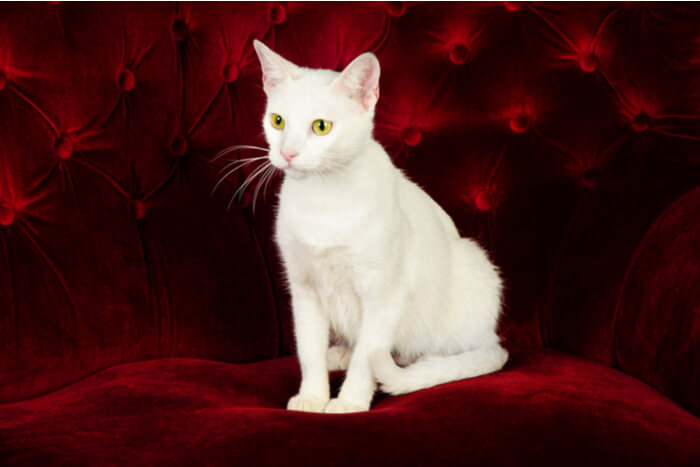 The Russian White is a rare breed that was developed in Australia in the 1970s. The breed was created by crossing a Russian Blue with a white Siberian to create a cat with the Russian Blue's personality and physical traits but with a white coat. Like its blue counterpart, the Russian White is a cat with a dense double coat and is medium-sized, weighing on average 12 pounds.
They are affectionate cats with their owners but may be aloof with strangers. The Russian Whites are friendly, gentle and are not as naughty as other cat breeds. These cats bond well with their family members. These cats require very low grooming. They tend to be sensitive, quiet, and intelligent.
5. Turkish Angora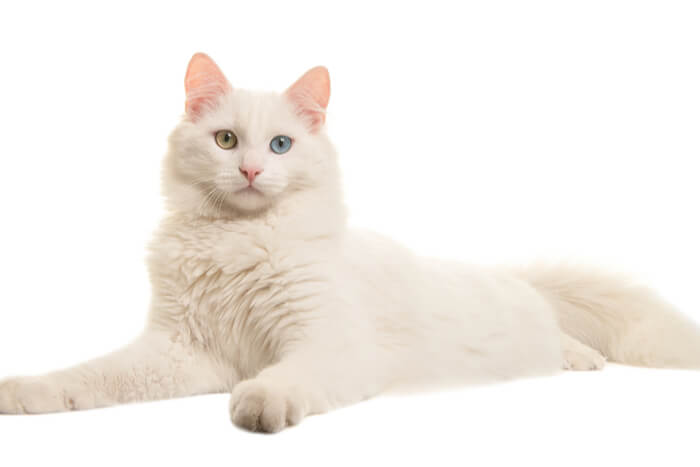 The Turkish Angora is the oldest long-haired breed and can be traced as far back as the 14th century. Solid white Turkish Angoras are the most prized color of this breed, but they do come in other colors. They are small-to-medium size cats with a delicate, athletic frame and a plumed tail. Turkish Angoras often have odd eyes and their eyes can be blue, green, copper, gold or amber. Their fur has no undercoat and is very silky, soft and opulent.
They are known for having a social, outgoing personality and enjoy talking to their owners. This friendly breed is extremely energetic and has been known to cause damage around the home. They are intelligent and enjoy learning tricks but are also loving and affectionate, do well with families that have active children as well as cat-friendly dogs.
6. Siberian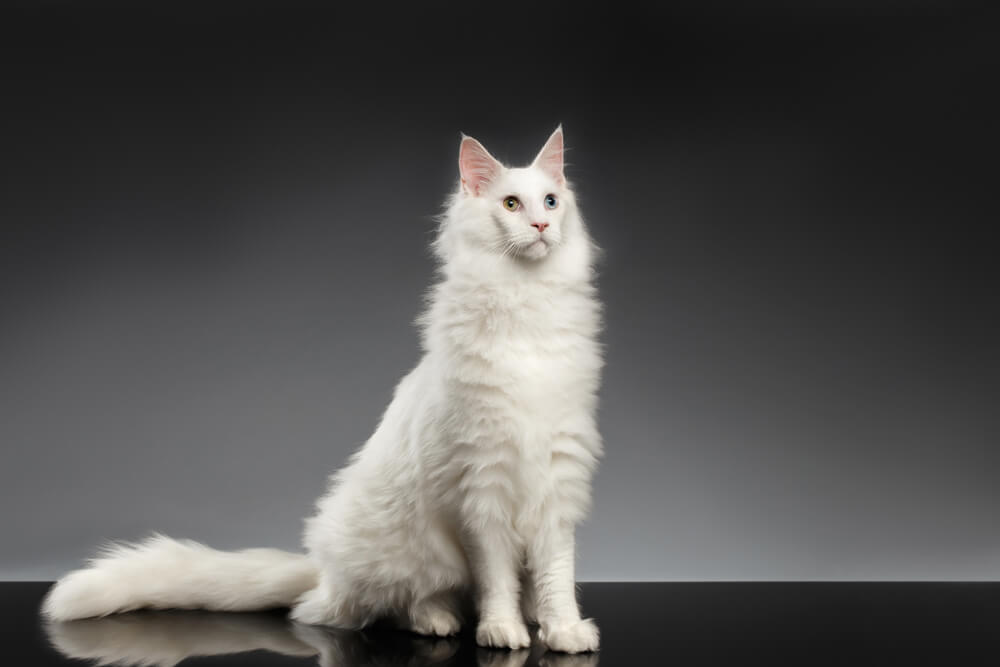 The Siberian looks a lot like a Maine Coon or a Norwegian Forest Cat. They are one of the largest domesticated cat breeds and were developed in Russia and came to the U.S. in the late 1800s. They are excellent hunters and are cherished for their intelligent, dog-like personalities. Although no breed is hypoallergenic, the Siberian is considered a good breed for allergy sufferers because they produce less of the allergy-causing substance than other cat breeds. Their fur is thick and has three layers to help them stay warm during cold winter weather.
This breed loves its family but doesn't need a lot of attention. The Siberian tends to get along with everyone, including kids, dogs and other cats. They can sometimes be a little suspicious around new people until they are familiar with them.
7. Persian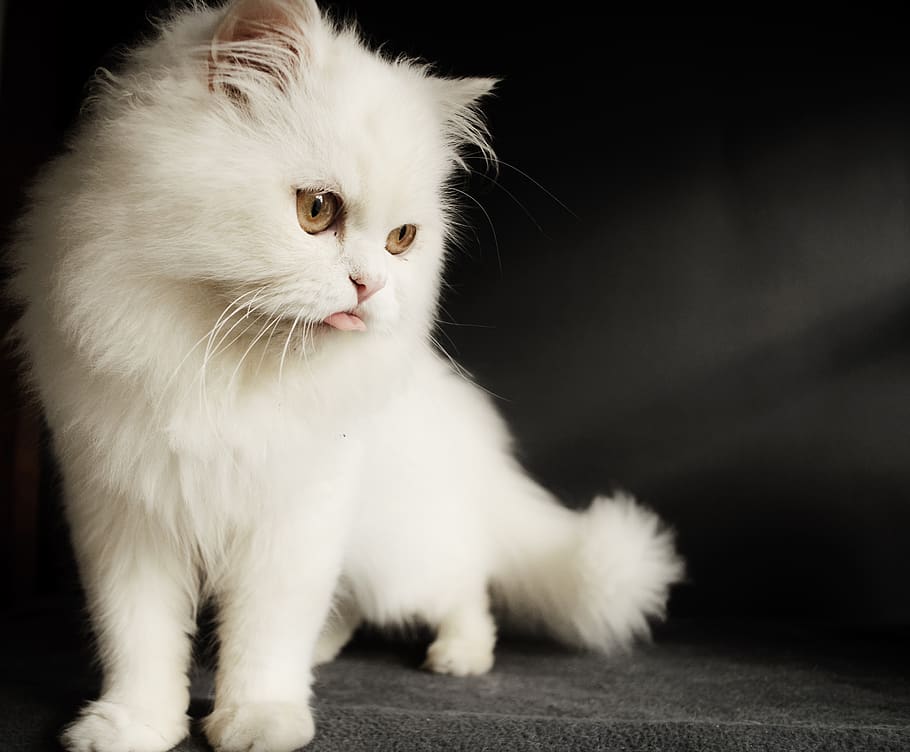 Persians are one of the most popular breeds of cats and have beautiful, silky long coats on stocky bodies. They can be medium to large-sized with either a flatter face or "doll face",  with a longer muzzle and nose. A white Persian is a symbol of elegance and luxury and it's a popular color. White Persians can have copper or blue eyes, or they may have "odd eyes" which are one blue and one copper eye.
Despite their royal appearance, they are sweet, gentle cats that enjoy cuddling and lounging. They can be very playful, especially as kittens. Persians are also good with children but they do prefer a quiet environment.
8. Japanese Bobtail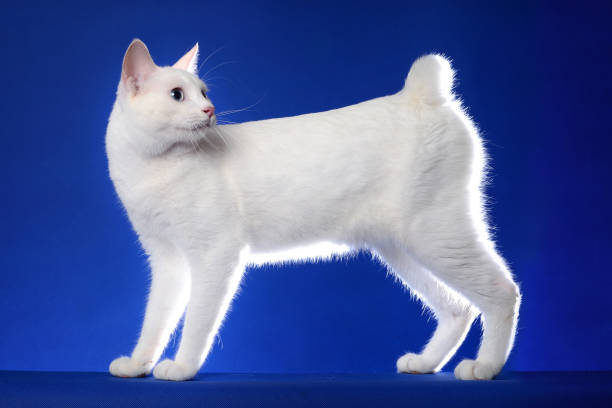 The Japanese Bobtail is considered a good luck cat in their native Japan. The maneki-neko, or lucky cat is based on this breed and statues are often displayed in homes and businesses. Their distinctive feature is their short, bobbed tail and they may have short or long hair and is medium-sized cat.
The Japanese Bobtail is an outgoing, friendly and active breed. Being smart and active, these cats are very curious and like to learn about their surroundings. These cats are exceptional in getting along with their owners, and they live well with other pets.
9. Exotic Shorthair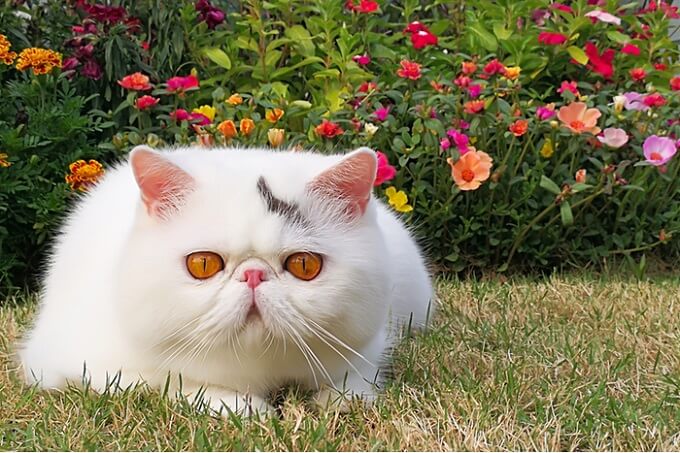 The Exotic Shorthair is a short-haired version of the Persian cat. However, instead of the long, silky coat, the Exotic Shorthair's coat is dense and plush. They are friendly and calm like the Persian, although they can be a little more energetic. They are a medium-to-large size breed that can weigh between 10 and 20 pounds.
The Exotic Shorthair loves its owners, but when meeting new people they are cautious. Over time, they usually warm up to strangers. This breed may be a great choice if you love the Persian personality but would like to avoid dealing with a lot of grooming and maintenance.
10. Cornish Rex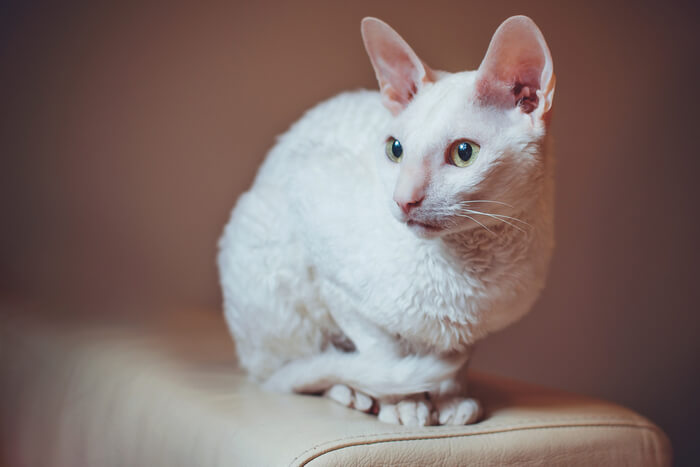 The Cornish Rex is an unusual and rare breed. They have a short curled coat and a long, slinky body and tail,  as well as big tapered ears and round eyes. Their coat is very soft and many allergy sufferers claim this breed is preferable to others. Although they are not hypoallergenic, they do shed less than other cats because they lack the traditional coats that cats have. The Cornish Rex is a smaller to medium-size cat weighing between six and 10 pounds.
The Cornish Rex is great for families with kids, other cats and cat-friendly dogs. These cats love to play games, such as fetch, and can be trained to do tricks. They are very active, intelligent cats with playful and outgoing personalities.
11. Devon Rex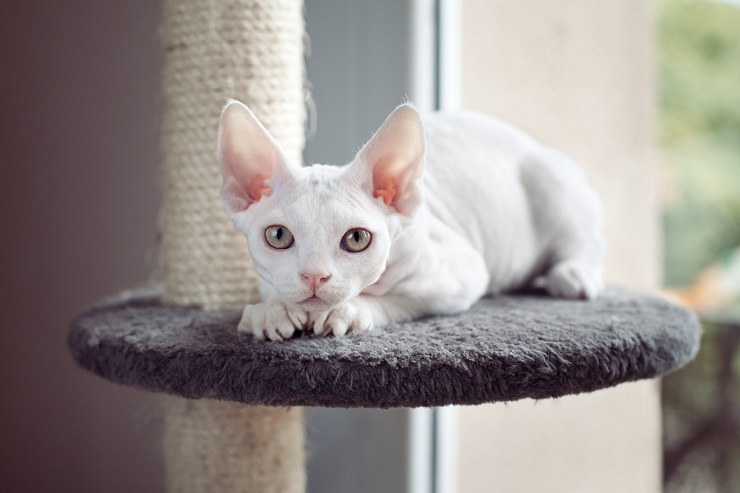 Like the Cornish Rex, the Devon Rex is another unusual-looking cat. They have a similar body and head shape as the Cornish Rex but their coat is tightly curled and has been compared to feeling like suede. They are low-shedding cats like the Cornish Rex as well. The Devon Rex is known as the "Pixie of the Cat Fancy" for their impish appearance and silly, clownish personality. The Devon Rex is a small to medium cat weighing between 6 and 9 pounds.
The Devon Rex is great for families with kids, and this breed will also get along with cat-friendly dogs.
Final Thoughts
White cats are not only known for their beautiful coats but are a symbol of luck and good fortune in many cultures. This makes bringing home a white cat not just a blessing but a wonderful companion regardless of what breed you choose.