Smalls Cat Food Review – Is It Worth It?
This page contains affiliate links. We may earn money or products from the companies mentioned in this post through our independently chosen links, which earn us a commission.
Your cat is your most loyal companion, but it is also your responsibility. As a cat owner, it is your job to provide for your cat's needs and that includes a wholesome, nutritious diet.
The higher the quality of your cat's diet, the more it will nourish its body and keep it healthy.
If you're looking for a cat food that offers premium quality nutrition customized for your cat's unique nutritional needs, consider Smalls, a cat food delivery services that offers wet, dry, and freeze-dried foods as well as treats.
We tested Smalls' fresh and freeze-dried foods for two weeks to bring you this honest and unbiased review.
Visit Smalls Cat Food And Get 25% Off You First Order
Overview Of The Smalls Brand
Smalls is a subscription-based cat food company that offers wet food, kibble, freeze-dried food, and treats. The company was founded by Matt Michaelson out of a desire to produce a higher quality pet food for cats.
Their products are made with fresh ingredients, prepared the same day they are purchased and frozen at the peak of freshness. Plus, they prepare their fresh foods on a weekly basis to ensure freshness and quality in each delivery.
To maximize the nutritional quality of their products, Smalls uses human-grade ingredients in their products. This simply means that the ingredients are of the same quality as similar ingredients you would find at a grocery store.
This means real, whole-food ingredients instead of low-quality fillers, by-products, and overly processed foods.
They get their meat from London Meat, Co. and their vitamins and minerals from GNC. As the company grows, they plan to work directly with farms to source their ingredients locally and sustainably.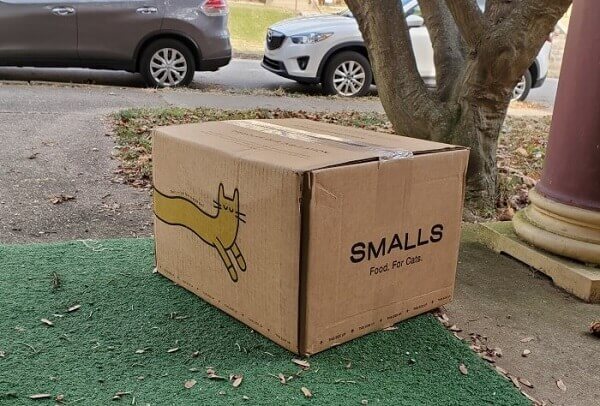 Where Is The Food Made?
At Smalls, every recipe is made with fresh ingredients sourced from the United States or Canada. Their products are manufactured in the United States and thoroughly tested for safety prior to shipping.
They also complete regular spot checks on the nutritional content of the food to make sure it is up to snuff. All Smalls wet food recipes are made in Chicago, Illinois and freeze-dried recipes are manufactured in Green Bay, Wisconsin. Their kibble is made in Brainerd, Minnesota.
What Cat Food Products Do They Offer?
All of Smalls' cat food products are formulated by Dr. Susan Lauten, Certified Animal Nutritionist. Each recipe is approved by AAFCO as well, as a complete and balanced diet for all life stages. Smalls cat food is high in protein, low in carbs, and free from both grains and fillers.
When fed regularly, Smalls cat food will help freshen your cat's breath, reduce litter box odor, improve skin and coat health, and boost your cat's energy levels.
When it comes to their cat food products, Smalls offers the following recipes:
Wet Food – Turkey, beef, or chicken (minced and pate with meat, organs, green beans, greens, and Smalls Supplement Blend)
Freeze-Dried – Turkey, duck, or chicken (finely ground with bone, organs, egg, goat's milk, water and tocopherols)
Kibble – Chicken, fish, or turkey (meat and meal with sweet potatoes, eggs, pea protein, fish oil, and Smalls Kibble Supplement Blend)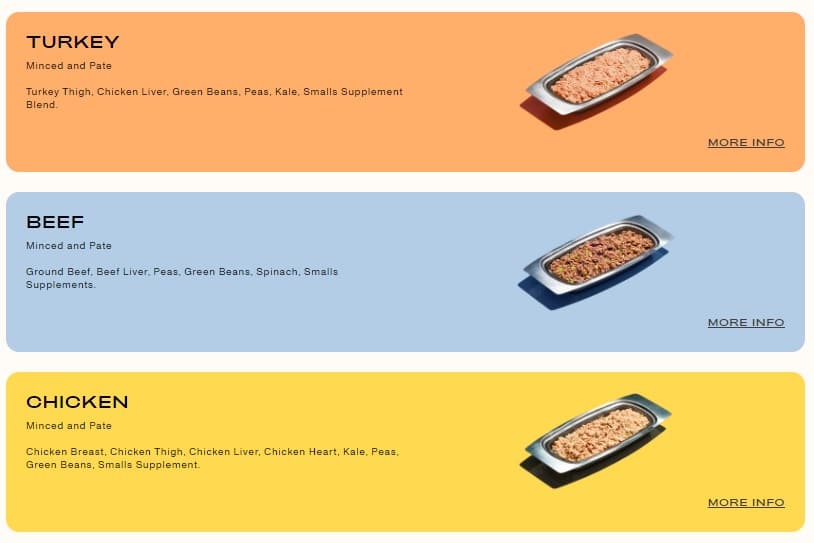 In addition to the cat food products in each order, Smalls includes bonus gifts like bone broth or bonito flakes which can be added to the food to entice picky cats. Smalls also offers freeze-dried chicken giblets as a tasty treat. In terms of Smalls' fresh food offerings, we found the quality to be very high and our test cats enjoyed all three flavors. The texture was very similar to traditional canned food, so the transition onto Smalls fresh food was quick and easy. We appreciated that the food came with a silicone lid to keep the leftovers fresh as well.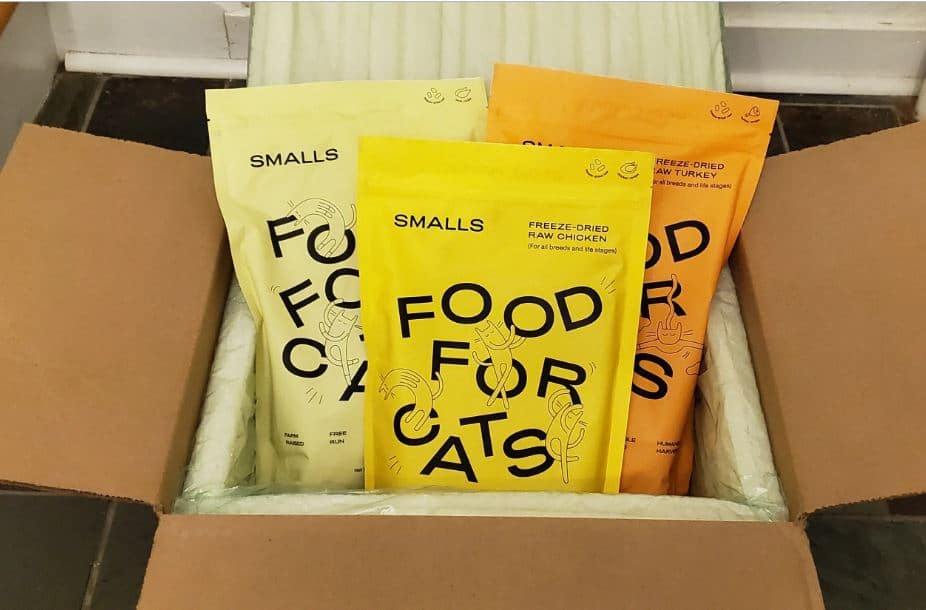 How Much Does It Cost?
Generally speaking, the higher the quality, the higher the price. This applies to cat food just as much as any other product. At Smalls, however, the goal is to provide cats with a meal plan that is good for both nutrition and affordability. Though Smalls food is certainly more expensive than your average kibble, there are plenty of options to customize your meal plan so you can afford it.
Here is an overview of meal plan options:
Complete Balance – 50% essential kibble, 50% fresh ($68/4 weeks/1 cat)
Healthiest Balance – 75% essential + raw kibble, 25% fresh ($117/8 weeks/1 cat)
Fresh Food Starter – 75% essential kibble, 25% fresh ($82/8 weeks/1 cat)
Total Moisture – 100% fresh food ($108/4 weeks/1 cat)
Balanced Moisture – 75% fresh, 25% essential kibble ($86/4 weeks/1 cat)
Healthiest + Convenience – 75% fresh, 25% raw kibble ($112/4 weeks/1 cat)
Essential Kibble – 100% essential kibble ($28/4 weeks/1 cat)
Essential + Raw – 75% essential kibble, 25% raw kibble ($58/4 weeks/1 cat)
Balanced Convenience – 50% wet, 50% raw kibble ($120/4 weeks/1 cat)
With all of these options to choose from, it's easy to find a plan that fits. If you have more than four cats or prefer a different combination, the Smalls Cat Concierge can help you customize your plan further.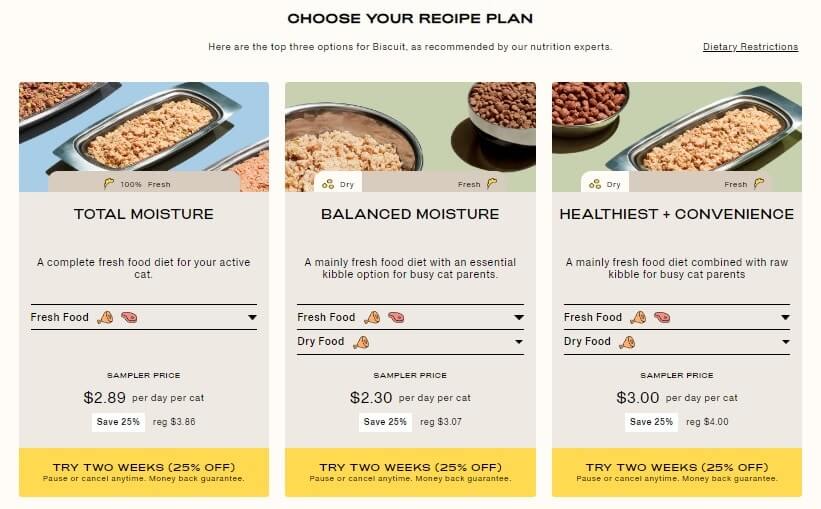 But how does Smalls compare to other premium cat food brands? Smalls offers a wide variety of cat food products you can use to customize a meal plan for your cat. For the sake of comparison, however, we'll take a look at how a fresh food diet from Smalls compares to other premium cat foods in terms of pricing.
Premium Cat Food Price Comparison

Food Type
Brand
Average Price
Price Per Month (approx.)
(Based on 6-8 lbs. Cat)
Dry Food
Orijen
About $5.10/pound
About $38
Wet Food
Newman's Own Organic
About $1.60/can
About $48
Raw Frozen
Stella & Chewy's
About $6.00/pound
About $27
Freeze-Dried
Primal Pet Foods, Inc.
About $2.40/pound
About $62
Dehydrated
The Honest Kitchen
About $11.25/pound
About $45
Fresh Food
Smalls for Smalls
About $3.50/day
About $108
Fresh Food
Nom Nom*
About $2.60/day
About $78
Why Pay More For Premium Cat Food?
When it comes to cat food, quality and price are closely linked. Why? Because high-quality ingredients are more expensive than fillers and by-products.
Pet food manufacturers that choose wholesome, natural ingredients pay more for them, so those costs are often transferred to the customer. But is premium cat food really worth the premium price?
Absolutely! While fresh food like Smalls may cost you more on a monthly basis than a traditional dry food, the long-term savings could be quite significant.
Fresh food is made from healthy, natural ingredients which means that they are easier for your cat's body to digest and utilize. The more nutrients your cat gets, the healthier he will be in both the short term and long term.
Feeding your cat a sub-par cat food can lead to nutritional deficiencies which, over the long term, can contribute to serious health problems. If you've ever taken your cat to the vet, you know how expensive vet bills can be for even a simple visit. Imagine the cost of treating a serious condition that could have easily been prevented with a healthy diet!
Here are some additional benefits of feeding your cat premium cat food:
Improved and regulated digestion, less gas and diarrhea
Reduced stool volume and litter box odor
Healthier coat with less shedding, fewer hairballs
Increased energy levels and vitality
Healthy weight loss (when needed for overweight cats)
Improved dental health and oral hygiene
Better urinary health, reduced risk for urinary tract infections (UTIs)
Some of these benefits will take weeks to develop, so if you truly want to transform your cat's health, you'll want to feed Smalls as a long-term staple diet. Now that you have a better understanding of why you should consider Smalls for your cat, let's take a closer look at how you actually order it.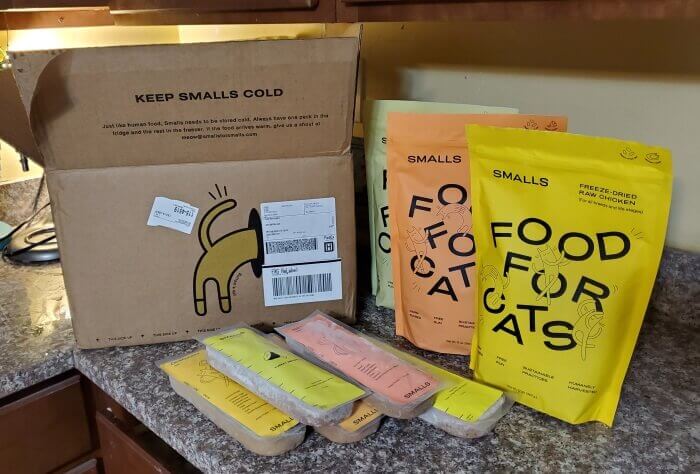 How Do You Order It?
Becoming a Smalls customer is very easy. All you need to do is go to the website and fill out a profile for your cat by clicking the "Get Started" button. After providing information about your cat's age, build, and current diet, Smalls provides a recommendation for several recipe plans.
If your cat has unique dietary restrictions, you'll be able to customize the flavors in your order before purchasing it. Each plan lists the price per day per cat and comes with a special offer for a discount on your first order.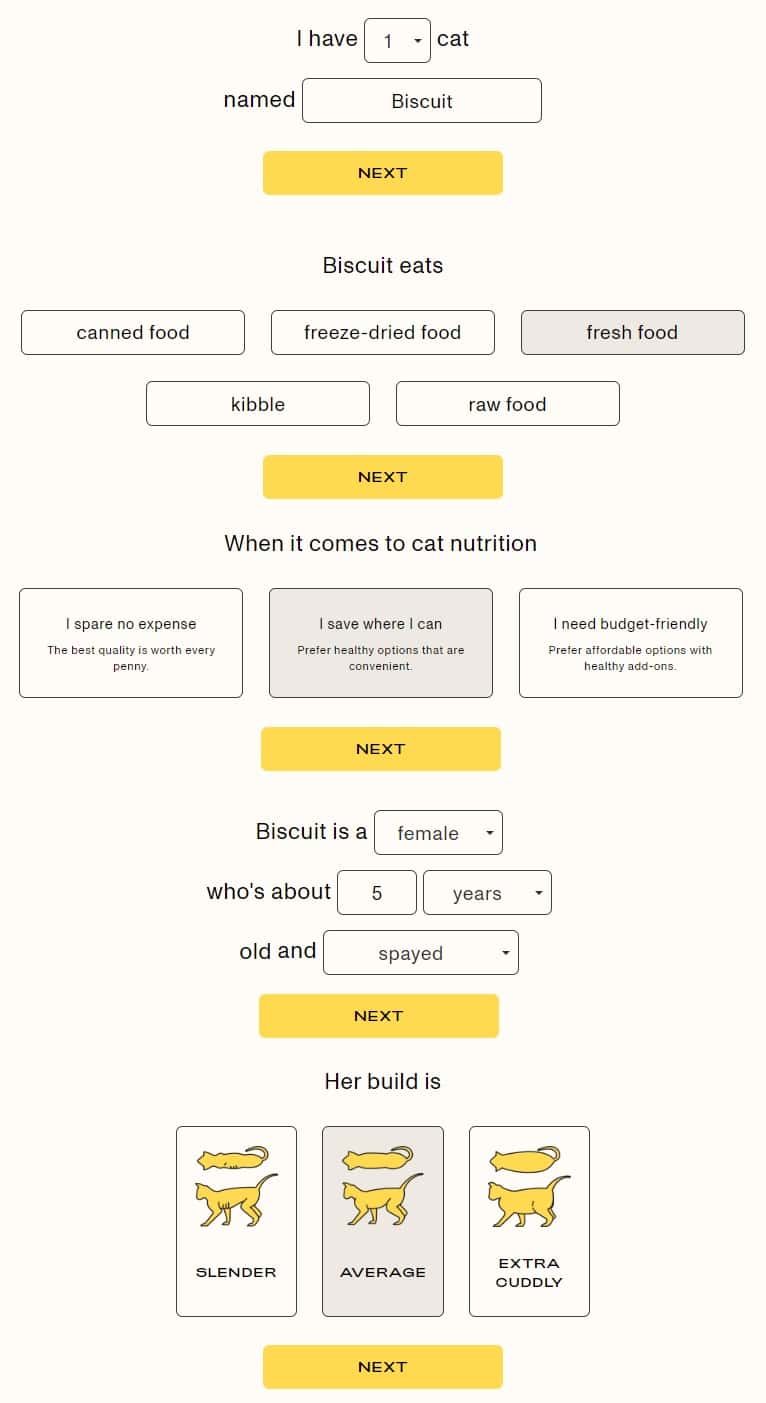 Customer Service
Smalls makes it easy to find answers to your questions and their customer service team is always standing by.
To find a quick answer to your questions, check out the Smalls Knowledge Base where you'll find quick links to resources and an FAQ section. For more personalized assistance, take advantage of their Cat Concierge team, available by text, email, or phone.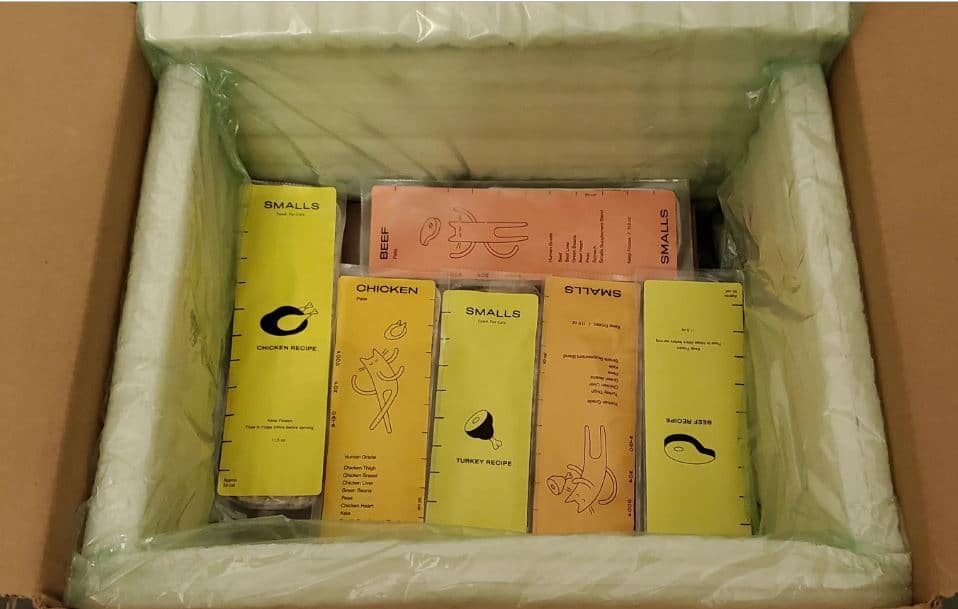 Tips For Making The Transition
Changing your cat's diet too suddenly can lead to digestive upset, so plan to transition your cat onto Smalls over the course of about a week. Start by adding a small spoonful of Smalls to your cat's regular diet, gradually increasing the amount at each feeding.
By the end of about 7 days, your cat should be eating Smalls entirely. If your cat has trouble with the transition, contact the Smalls Cat Concierge for additional help.
Smalls Cat Food Pros and Cons
When it comes to cat food subscription companies, Smalls offers more options than most. Not only do they offer fresh cat food, but they have freeze-dried food and kibble. If variety is a priority for you and your cat, Smalls might be a good choice.
That being said, every cat food brand has its pros and cons. Here are some of the things you need to know about Smalls:
What We liked
Customizable shipments of fresh food (frozen) or kibble delivered to your home on a regular basis – you never have to go to the pet store.
Every recipe is protein-based and inclusive of fresh meat, muscle, and organs with minimal carbohydrate content limited to low-glycemic veggies and greens.
Recipes are simple and made from premium-quality ingredients sourced and manufactured in the USA – a great option for picky eaters and cats with food allergies.
Many options to choose from in terms of products and customizable meal plans – options to include wet food, freeze-dried food, and/or kibble.
What We Did Not liked
More expensive than the average kibble or canned food, but many options to customize your meal plan.
Fresh food needs to be kept refrigerated or frozen – shipments arrive packed with dry ice to keep foods fresh until they can be unboxed.
Food is shipped in 16-ounce containers, not portioned into individual meals.
Some cats find the texture of the wet food to be off-putting and some cats dislike the texture of freeze-dried food – may take some getting used to it.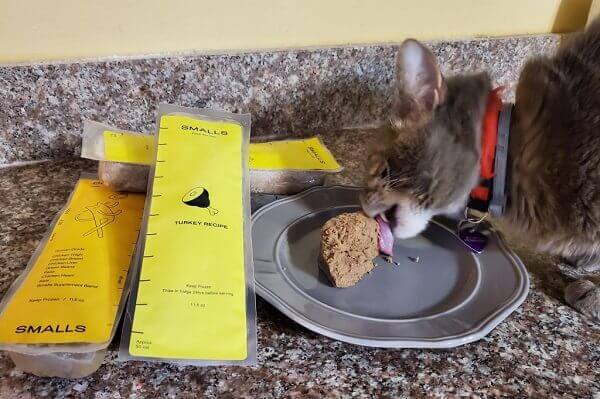 The Final Word: Is Smalls Good Cat Food?
Smalls describes its products as healthy, real food recipes carefully formulated for your cat.
Not only are their products made with premium-quality ingredients and made right here in the USA, but they offer a wide variety of products with plenty of options to customize your cat's meal plan.
Whether you plan to feed Smalls exclusively or as a supplemental food, it's easy to find the plan that suits your needs.
Though Smalls cat food is undoubtedly of high quality, their website leaves a little to be desired in terms of navigation. If you're simply looking to get started right away with a two-week trial, however, it couldn't be easier.
Overall, we recommend Smalls cat food if you're looking to increase the quality of your cat's diet without sacrificing variety.
Our test cats enjoyed all three recipes and had no trouble tolerating the food. Though we were impressed with the product, however, the price is a bit too high for us to continue feeding Smalls as an exclusive diet.
If you're concerned about price, you can always feed your cat a high-quality dry food and add small amounts of Smalls fresh food to provide a boost of nutrition and natural flavor!
Visit Smalls Cat Food And Get 25% Off You First Order