Best Flushable Cat Litter
This page contains affiliate links. We may earn money or products from the companies mentioned in this post through our independently chosen links, which earn us a commission.
Cats are great pets, but owning one and deciding to keep it indoors, however, could be stressful for the cat and its owner.
Unlike outdoor cat owners who do not have to worry about having a litter, indoor cat owners have to go through the daily task of having a litter, keeping it clean and then disposing of it.
Not doing so will only cause serious health problems for both the cat and the household. No one likes to walk into, leave alone using a dirty toilet. In the same way, no cat will like to walk into and use a dirty litter box.
What Are Flushable Cat Litters?
Litters made with recyclable materials are classified as flushable cat litters. These are natural, organic and easy to flush. Also, not all cat litters are flushable and so the ones that can be flushed are grouped separately.
Not only are these eco-friendly and completely renewable, but they also help maintain the cat's overall health and wellness. Typically, flushable litters are dust-free, synthetic-free, chemical-free and fragrance-free.
The general materials used to formulate flushable cat litter include corn, walnut shells, recycled paper products, pine pellets, wheat by-products, grass, wood, sawdust, and citrus, all of which offer varying level of effectiveness in different aspects.
Flushable cat litter makes your litter disposal routine easier and more convenient. All you have to do is toss the litter in the toilet, flush it and forget about it.  However, flushable litter isn't perfect and doesn't make the process entirely effortless.
How To Choose The Best Flushable Cat Litter?
Not all cat litters are created equal – some are simply better than others. When it comes to shopping for cat litter, you need to decide which features are the most important to you before you start your search. You'll want to think about things such as price, materials, dust, tracking, scent, and more.
Here are some things to look for in a flushable cat litter:
Low-Dust Formula – One of the main benefits of Flushable cat litter is that is tends to be less dusty. You should still shop around to make sure you pick a low-dust formula, however.
Non-Tracking – Cat litter that comes in larger granules tends to track less than very fine litter because it is less likely to get stuck in your cat's paws.
Scented – If you're concerned about flushable cat litter absorbing odor as well as clumping litter, consider going with a scented option. Just make sure the fragrance isn't too strong that it irritates your cat's nose and respiratory system.
Natural Materials – While many clumping cat litters are made from clay, flushable cat litter comes in a wide variety of materials including natural options like recycled paper and pine.
In the end, it is largely a matter of preference whether you choose clumping or flushable cat litter. Keep reading to see our top 5 recommendations for the best flushable cat litter.
Compare Best Flushable Cat Litter
Overall Best

1. Better Way Eco Fresh Scented Clumping Clay Cat Litter

Runner Up

2. Weruva Classic Fresh Scented Clumping Wood Cat Litter

Best Eco-Friendly

3. Naturally Fresh Unscented Clumping Walnut Cat Litter

Best Biodegradable

4. Okocat Original Premium Wood Clumping Cat Litter

Best Dust-Free

5. World's Best Multi-Cat Unscented Clumping Corn Cat Litter

Price Range

$

Price Range

$$

Price Range

$$

Price Range

$$$

Price Range

$$

Type

Clay

Type

Pine, Wood

Type

Wallnut

Type

Wood

Type

 Clay

Odor Control

7/10

Odor Control

9/10

Odor Control

8.5/10

Odor Control

8.5/10

Odor Control

9.5/10
Best Rated Flushable Cat Litter Reviewed
flushable cat litter is easy to find, and it is generally very affordable. This doesn't mean, however, that all non-clumping cat litters are worth your money.
Take the time to find a flushable litter that absorbs liquid well, reduces litter box odor, and doesn't track all over the house.
Here are our top 7 picks for the best flushable cat litter:
Overall Best
Better Way Eco Fresh Scented Clumping Clay Cat Litter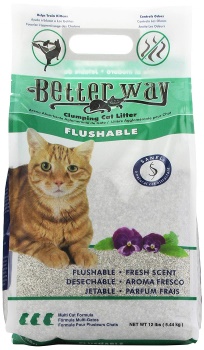 Product Info
Price Range: $
Type: Clay
Odor Control: 7/10
Pros
Eco-friendly
Easy to flush the small clumps
Small, dense granules prevent urine from seeping through the bottom of litter box
Cons
May not be septic safe
Not readily available
This flushable cat litter is excellent in so many ways. This cat litter features activated carbon that traps and eliminates odors from both urine and feces on contact. It is perfect to train and re-train your cats. Also, it has small-sized granules that are easy to flush.
Plus, it contains a microbial agent to inhibit bacterial growth to further reduce litter box odor. This cat litter quickly absorbs liquid, and the fragrance is paw-activated, so the litter box stays fresh with every step.
Runner Up
Weruva Classic Fresh Scented Clumping Wood Cat Litter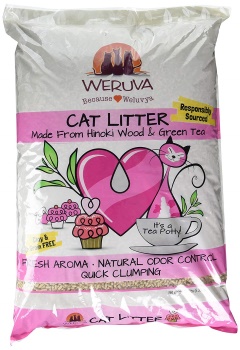 Product Info
Price Range: $$
Type: Pine, Wood
Odor Control: 9/10
Pros
Dissolves easily in water
Great odor control
Natural mild fragrance
Hypoallergenic, has no chemicals, clay and grain
No artificial fragrances
Minimal dust and tracking
Cons
Cats may take a while to get used to the fragrance
Not suitable for cats that hate fragrance of any kind
This flushable cat litter is completely safe for cats with grain allergies. Made from Hinoki wood and green tea, this cat litter is eco-friendly. Besides odor control, it also has a mild fragrance. So your cat will get used to it over a period of time, and it is absolutely flushable. It produces minimal dust, clumps easily and even dissolves in water. That makes flushing this litter safer for the earth and also the toilet.
Best Eco-Friendly
Naturally Fresh Unscented Clumping Walnut Cat Litter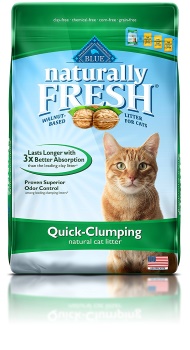 Product Info
Price Range: $$
Type: Wallnut
Odor Control: 8.5/10
Pros
Flushable
Eco-friendly
Minimal tracking
Great odor control
Very gentle on your cat's paws and fur
This flushable cat litter has several litter variants and is made from crushed walnut shells. These variants meet the needs of different cats and also keep your environment safe. This product is a hundred percent renewable and is known to be the safest cat litter. With no toxins, this product is gentle on your cat's paws and skin. It also guarantees that your cat has little or no ingestion troubles. Instead of flushing it, you could also use it as compost.
Best Biodegradable
Okocat Original Premium Wood Clumping Cat Litter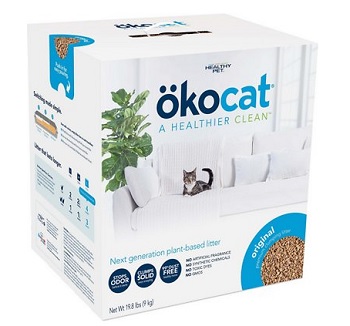 Product Info
Type: Wood
Price Range: $$$
Odor Control: 8.5/10
Pros
Absorbs 500% its weight
Natural Pine Scent
Biodegradable
Flushable
Cons
Doesn't clump
Does not adhere to poop, must be scooped every day
Light tracking
This cat litter is highly recommended for its pleasant natural pine scent, ease of use and affordability. It has the ability to absorb weight. Also, it is available in 7.8, 12.4, and 18.6-pound boxes, and is comprised of pine pellets. All eco-friendly customers will love this.  Obtainable in the budget-priced tier.
Best Dust-Free
World's Best Multi-Cat Unscented Clumping Corn Cat Litter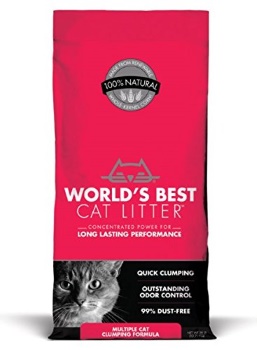 Product Info
Type:  Clay
Price Range: $$
Odor Control: 9.5/10
Pros
Hard-clumping action is easy to scoop and locks away odors
All-natural, plant-derived materials are septic safe and flushable
Dust-free formula for sensitive noses
Cons
Large bags can be difficult to carry and handle
Scented version may be a little too strong for some
Not only does this World's Best Scoopable Multiple Cat Clumping Litter stand up to its name in terms of clumping action, but it also offers excellent odor control. This litter features an all-natural, plant-derived formula which means that it is septic-safe and flushable for easy disposal.
You'll also be glad to know that it is unscented (though a scented version is available) and it is dust-free.
Pros Of Using Flushable Cat Litters:
There are plenty of reasons for cat owners to use flushable cat litters. Some of them are shown below:
With flushable cat litter, your worry about disposing of your cat's wastes disappears. That's because the time consumed in packing up the smelly wastes and dragging it outside is saved. Also, the inconvenience caused during unfavorable weather conditions is minimized.
If you love your environment as much as you love your cat, keeping them both safe should be on our mind while buying a cat litter. That's because it does not do the earth any good when we dump cat litter mixed with solid waste. This gets even worse when you use disposable litter trays. All of this would eventually pile up a lot of waste, and that too really fast. Therefore, flushing your used cat litter down the toilet reduces landfill waste, air pollution, and environmental degradation. As a result, the cat litter becomes biodegradable and it also saves space. Cat litter, being a major contributor to landfill waste, can be treated like a human waste by flushing it down the toilet.
Flushable cat litters are usually hypoallergenic. This means you and your cats don't have to worry about allergic reactions.
Cons Of Using Flushable Cat Litters:
On the flipside, there are also some cons of using flushable cat litters:
Introduces parasites to waterways
Domesticated cats and other members of the cat family commonly carry a parasitic organism known as Toxoplasma gondii.  So, flushing the litter of an infected cat into the waterways could eventually carry it to the sea.  Since parasites can survive in soil as well as cold water, they can eventually infect others.
There is no guarantee that flushable cat litter will pass through your plumbing smoothly without causing clogs, especially in older or rusted pipes.  These clogs could have very unpleasant consequences, some of which are, inability to flush and spending on repairs. It is advisable to dump the litter gradually into the toilet and then let it break down in the water for a while before flushing it.
Some cat litters made from abrasive materials like walnut could cause scratches on the surface of your toilet bowl. Apart from the stains, the litter could also damage to your toilet's bowl. Therefore, even the flushable cat litters require a lot of precautions and thorough cleanups.
Materials used in some flushable cat litters may lead to the growth of toxic molds called aflatoxins when exposed to moisture. The chances of this happening are a lot higher in cereal-based litters like the ones that contain corn and wheat.
Final Thoughts
Cat litter dump exceeds the number of human diapers dumped into landfills. According to surveys, this dumping includes the litter of over a billion cats each year.
This mainly includes the cat litter made out of clay. This is indeed very bad for the environment. So, in order to help protect our environment, it is best to go for a renewable, natural and flushable cat litter.